The Ongoing 2023 Nebula Conference!
Each year since 2020, our Nebula Conferences have launched over the conference weekend, but they continue online all year long with plenty of great professional development and networking opportunities open to SFWA members and nonmembers alike. And what's better? The ongoing 2023 Nebula Conference registration price has just been reduced to $75!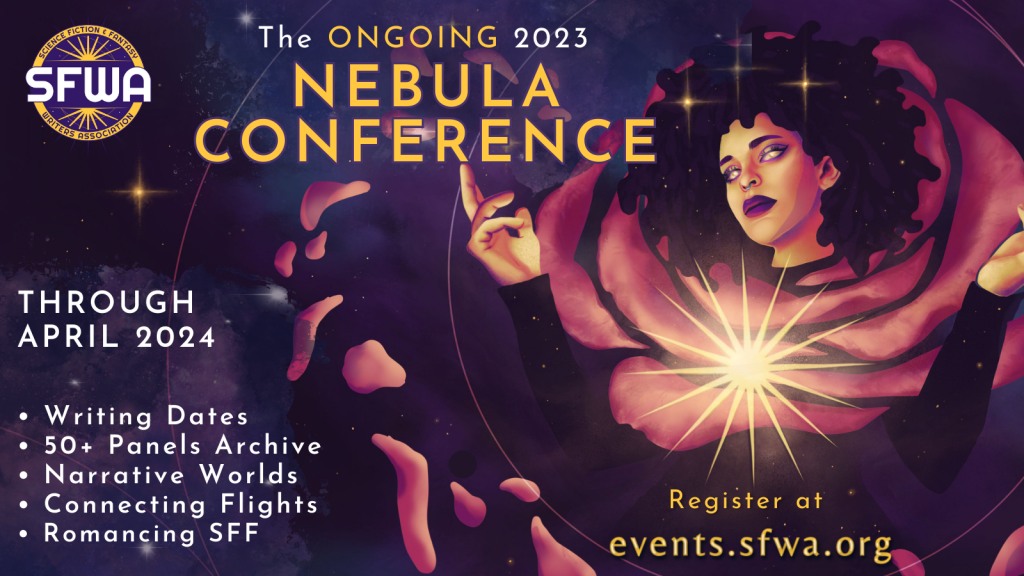 What does that get you?
– Weekly writing dates, at 2pm Pacific Time every week with a special guest host, and at midnight Pacific Time every other week with the SFWA flight crew.
– Monthly Romancing SFF meetups, featuring an expert talk from the more romantic side of science fiction and fantasy along with opportunities to network.
– Our archive of 50+ panels that took place over the conference weekend, with many fantastic professional creators giving advice.
– Connecting Flight panels with brand-new content and live guests on a variety of topics important to SFF creators.
– Narrative Worlds live tapings, where only conference attendees get the chance to ask Kate Elliott and her guests questions at the end of these deep dives into worldbuilding.

That's a lot of content for one low price that lasts through April 2024! Interested? Register at events.sfwa.org.