ALERTS FOR WRITERS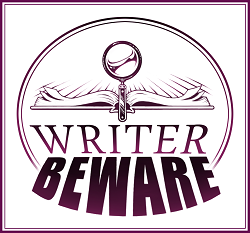 Last updated: 8/26/18
** THE CONTENTS OF THIS PAGE MAY NOT BE REPRODUCED WITHOUT PERMISSION **
Author mill PublishAmerica opened its doors in 1999. In January 2014, it changed its name to America Star Books, and expanded into foreign-language-to-English translations for overseas authors.
Writer Beware has received hundreds of complaints, reports, and advisories about this company under both its names. Hundreds–perhaps thousands–more can be found online.Author complaints about PublishAmerica/America Star Books include page proofs and finished books full of errors, books bound in the wrong covers, books with chapters from other books interpolated, books that fell apart as they were being read, ordered books that never arrived or that took months to arrive, exorbitant book prices and shipping fees, production delays, royalty irregularities, and serious difficulty communicating with staff. Where communication does occur, PA/ASB is notorious for its rude, condescending, bullying, and outright abusive responses to authors' questions and concerns.
Here's just one of many typical author experiences.
Though it has always made much of the fact that it doesn't charge to publish, PA/ASB has its roots in vanity publishing–it's a successor to Erica House, a pay-to-play publisher founded in the mid-1990's by PA/ASB's co-founder Willem Meiners. In fact, PA/ASB's basic business model has always been very similar to that of a vanity publisher, with minimal editorial gatekeeping, little or no editing or marketing, and more recently, a huge range of fees for "extras" like expedited processing, changes in proof, and promotional "opportunities" that are unlikely to produce results (here are some examples). PA/ASB also often demands payment from writers who request termination of their contracts, and ceaselessly bombards authors with solicitations and incentives to purchase their own books (here's a particularly egregious example).
Sometime in 2015, PA/ASB spun off its pay-to-play publicity services into a new division called ASB Promotions. Writer Beware has received many reports of out-of-the-blue solicitations by this entity, which also engages in blog comment spam.
PA/ASB has been the subject of a number of lawsuits by its authors, several arbitration proceedings, and two class action lawsuits (one dismissed, the other settled out of court). It has also sued itself. In 2015, PA/ASB co-founder Larry Clopper sued ASB, Meiners, company attorney Victor Cretella, and others for breach of contract and breach of fiduciary duty, among other causes, with a petition for dissolution and appointment of a receiver. After more than a year of legal maneuvering, including subpoenas issued by Clopper, the parties reached a settlement, stipulating to dismissal with prejudice in July 2016.
In April 2017, ASB stopped accepting new submissions and abandoned its translation program. Then, in August, ASB abruptly announced that it was "morphing" into Paperback Services (basically ASB Promotions under a different name; Paperback Services, along with sister service Paperback Radio, were both owned by ASB co-founder Willem Meiners). By mid-September, however, the ASB website had disappeared, and Paperback Services and Paperback Radio were gone as well. Authors reported bouncing emails and unanswered or disconnected phones. ASB's print books began showing as out of stock or unavailable on retailers' websites–though Kindle editions remained on sale. Also in September, ASB co-founder Willem Meiners sold his house.
To date, there has been no official announcement of ASB's closing, and authors have not received any notification or any release of rights.
For a fuller account, with updates and many comments from ASB authors, see the Writer Beware blog.
********
Writer Beware has been warning, and writing, about PA/ASB almost since the company's inception. It has threatened us a number of times over the years, but never followed through until March 2014, when it filed suit against Writer Beware and its staff, alleging defamation and conspiracy to disparage (although three staff members were named in the complaint, I was the only one who was ever served).
Shortly after my attorneys presented interrogatories and discovery requests, PA/ASB contacted us asking to settle. In January 2016, all parties agreed to stipulate to dismissal with prejudice.
There's a fuller account at Writer Beware's blog.
********
The Atlanta Nights hoax:
From the very beginning, many of the writers' advocates providing warnings about PublishAmerica were speculative fiction authors. In an attempt to retaliate, PublishAmerica posted a venomous screed against science fiction and fantasy writers at its AuthorsMarket.net website ("…writers who erroneously believe that SciFi, because it is set in a distant future, does not require believable storylines, or that Fantasy, because it is set in conditions that have never existed, does not need believable every-day characters").
A bunch of us wretched hacks decided to accept the challenge, and see how high a bar the supposedly selective PublishAmerica set for its own books. Over the course of a weekend, thirty professional science fiction and fantasy writers and editors sat down and banged out a chapter of a deliberately unpublishable opus entitled Atlanta Nights. Guess what: PublishAmerica accepted it.
Full information about the hoax (including links to a downloadable version of Atlanta Nights) is here. Sample a snippet of Atlanta Nights' immortal prose here.
Atlanta Nights is just one of several similar hoaxes:
– Painful Poetry by Alphabet, a "potpourri of putrid poems"
– Crack of Death by Sharla Tann, "deathful prose so bad, it's good!"
Writer Beware began receiving complaints about American Book Publishing in 2001. ABP, which presented itself as a "traditional" publisher, required its authors to pay a sizable "setup" fee (as high as $880), and pressured them to buy large quantities of their own books to send out for review (500-1,000 copies was the number most often suggested).
Complaints included non-standard contract terms (including royalties paid on net profit), non-production of promised e-book editions, non-fulfillment of marketing and publicity promises, repeatedly delayed publication schedules, finished books full of errors, difficulty with orders and order fulfillment, non-payment of royalties, attempted blackmail (some authors wanting to get out of their contracts were told that if they didn't pay $500, ABP would pull their books from circulation and hold the rights forever), and harassment of those who questioned or complained. ABP's owner, Cheryl Lee Nunn, a.k.a. C. Lee Nunn or Cheryl Nunn, used multiple aliases to run the business. ABP was the focus of at least one police investigation.
In 2013, Nunn and ABP briefly expanded into a number of satellite operations, including All Classic Books. Following this post at the Writer Beware blog, those businesses were shut down, with Nunn attempting to get authors to pay to regain their rights.
ABP no longer appears to be actively publishing, but it is still selling books online.
Authors with complaints about American Book Publishing or any of its satellites are urged to contact Writer Beware: beware@sfwa.org.
A former employee of convicted fraudsters George and Janet Titsworth, Leann Murphy of San Angelo, TX, established Desert Rose Literary Agency in early 2004, just after the demise of her bosses' literary agency scheme. Dozens of reports received by Writer Beware documented that Desert Rose charged upfront fees of $250-350, and made no sales to commercial publishers.
The Tom Green County Sheriff's Department opened an investigation into Desert Rose. On April 9th, 2009, a Search and Arrest Warrant was executed on Leann Murphy at her residence. Numerous boxes of files, manuscripts, computers and other items were taken as evidence, and Murphy was charged with Theft by Deception, a felony in Texas. In April 2010, the case was dismissed.
Like many scammers, Murphy couldn't stay away. In 2009, she started a new literary agency called The Novel Literary Agency, under the names Ann Beck and Melissa King. Like Desert Rose, the Novel Literary Agency charged upfront fees (reports received by Writer Beware indicate that these range between $320 and $345). Once again, there was no sign of sales.
The most recent complaint about the Novel Literary Agency/Leann Murphy received by Writer Beware was dated July 2011, but we believe she is still active. If you've had contact with The Novel Literary Agency, please get in touch with:
Sgt. John Walker
Tom Green County Sheriff's Department
222 West Harris
San Angelo, TX 76901
johnny.walker@co.tom-green.tx.us
Be prepared to provide an account of your experience plus documentation.
Writer Beware has received numerous complaints about Oak Tree Press of Springfield IL, run by Billie Johnson, who also ran the fee-charging Johnson-Warren Literary Agency. Complaints include non-payment of royalties and charging authors hundreds of dollars for "additional" print runs that are never produced. Formerly located in California, the company has recently moved to Illinois. In 2003, one author won a summary civil judgment against the company for copyright violation. (Note: Ms. Johnson's company is not to be confused with Oak Tree Press of Cork, Ireland.)
Authors with complaints about Oak Tree Press are urged to contact Writer Beware:  beware@sfwa.org.
This information is current as of the update date at the top of the page.
The International Library of Poetry or ILP (a.k.a the National Library of Poetry and many others), was a vanity anthology scheme that drew in poets through free contests, then solicited them to purchase the anthology in which they would be published, plus a variety of other merchandise and services. The contests, in which all entrants were declared "semi-finalists", were bogus; and while the company portrayed itself as a viable and even prestigious poetry market, the lack of editorial gatekeeping and the resulting poor quality of most of the poems meant that publication in one of its anthologies was not considered a professional credit.
In early 2009, the ILP went out of business. In April 2009, the ILP's notorious URL, Poetry.com, was purchased by self-publishing service Lulu, which kept much of the existing Poetry.com content, but discontinued the anthologies and all contest-related vanity activities.
In January 2012, the Poetry.com domain changed hands yet again. It's now owned by a company called Newton Rhymes, LLC, about which very little information can be found. The current iteration of the site encourages members to post poems, and enables them to earn points for activities such as providing critiques and promoting Poetry.com on social media. No sign of contests or anthologies, but we'll keep watching.
Fuller accounts can be found at Writer Beware's blog: Lulu's acquisition of Poetry.com and Poetry.com's new ownership.
The National Writers' Union maintains a regularly updated page of alerts for professional writers.
On May 15, 2006, a default judgment against Cris Robins of The Robins Agency was entered in Washington Superior Court for King County (case no. 06-2-16530-6SEA) for breach of contract, fraudulent business practice, and consumer protection violations in regard to the promised provision of paid editing services and promised representation of the plaintiff's manuscript to publishers. Ms. Robins has been ordered to pay $8,320 (treble damages) plus interest and attorney fees.
Writer Beware has been receiving complaints about The Robins Agency since our inception. Complaints include promotion of the agency's own paid editing services, incomplete/unprofessional editing, and the charging of huge upfront retainers (as much as $3,200 for a one-year contract). To our knowledge, The Robins Agency has never sold a client's manuscript to a commercial US publisher in the whole of its time in business.
The most recent complaint we've received was dated January 2010. We aren't sure whether Robins is still active, but it wouldn't surprise us.
More detail at Writer Beware's blog.
In 1997, complaints began to surface about German literary agent Uwe Luserke, who was selling foreign rights to English-language short stories and novels and neglecting to pay the advances and royalties due to authors. In some cases, the sales were made without the authors' knowledge.
Luserke specialized in speculative fiction, so SFWA investigated. Luserke's fraud turned out to involve hundreds of novels and stories, publishers all over Europe, and scores of authors, including  some of the biggest names in the business–Terry Pratchett, Robert Jordan, Andre Norton.
SFWA made efforts to get the German government to take action against Luserke, but due to various factors, including the distances involved (the Internet was then in its infancy, and overseas contact was expensive and inconvenient), he was never sued or prosecuted. (For a more detailed account, see Writer Beware's blog.)
Luserke dropped out of sight around the turn of the century, but recently he has become active again. Writer Beware received contacts in 2010 and 2011 from writers who were considering doing business with him, and in 2012 we've begun seeing complaints about non-payment very similar to those from 1997.
In April 2012, we saw Luserke's rights catalog, which lists over 25 authors–including two of the authors who allege they haven't been paid. Writer Beware recommends that writers and writers' estates use extreme caution in dealing with Uwe Luserke.
We're looking to hear from writers who've had difficulty with unauthorized rights sales, payment, or other issues. Contact us: beware@sfwa.org.
Since SBPRA began operating as a fee-charging literary agency in 2001 (under a different name), Writer Beware has received hundreds of complaints and advisories of fees for literary agency services, fees for publishing, and paid critique and editing referrals. Other questionable practices include selling marketing services to authors, charging authors to attend book fairs, and referring clients to other branches of the business without revealing the connection.
We're not aware that the literary agency branch of the business has a significant track record of commercial book or script sales under any of its names…and it has had a lot of names. A history:
In 2001, Robert M. Fletcher of Boca Raton, Florida began operating a fee-charging literary agency under the name Sydra-Techniques. Around 2003, the name was changed to ST Literary Agency, and then, briefly, to Stylus Agency. An editing service was added, called My Editor Is A Saint.
Around 2005, the business became The Literary Agency Group, and the editing service was also renamed, becoming Writers' Literary and Publishing Services Company. This latest name change coincided with an expansion of the company's fee-charging agency activities, with several satellite agencies set up under the following names:
Children's Literary Agency
Christian Literary Agency
New York Literary Agency
Poet's Literary Agency
The Screenplay Agency
In early 2007, the business re-christened itself once more, to Writers' Literary Agency and Marketing Company (a.k.a. WLA or WL Writers' Agency). Even more satellite agencies were added:
Writers' Book Publishing Agency
WL Children's Agency
Children's Book Publishing Agency
WL Poet's Agency
Poetry Book Publishing Agency
WL Screenplay Agency
Screenplay Writers' Agency
Global Book Agency
2008 rang in yet another name change: to AEG Publishing Group. At the same time, the business expanded into vanity publishing, with two new "imprints" and a pay-to-play marketing service:
Strategic Book Publishing
Eloquent Books
Strategic Book Club, a.k.a. Authors' Edge
Strategic Book Marketing
In 2009 the business finally abandoned its long-standing pretense that the agencies, editing service, and publishers were unaffiliated, consolidating all operations as Strategic Book Group, while continuing to use the other names more or less interchangeably.
Fast forward to 2011, and yet another name change. The business was re-titled Strategic Book Publishing & Rights Agency, a.k.a. SBPRA. It also added an "international" arm called Publish On Demand Global, a.k.a. PODG, and its editing service got a new moniker as well: Best Quality Editing Services. On web searches, most of the former names/websites were set to default to current ones, though some of the old names still appeared to be in use.
Sometime in 2013, Best Quality Editing Services disappeared, and paid editing operations were quietly folded into SBPRA itself.
As of 2015, SBPRA and PODG are still extremely active, despite the conditions imposed on the company's business practices by a recent lawsuit settlement (see below). Reports to Writer Beware include unsolicited invitations to submit to SBPRA. SBPRA and PODG are also moving in on the education and translation markets, with a gaggle of websites aimed at teachers and students (The IB Library, Inquiry Ed, The Translation Teacher, and more).
Other names/business entities currently associated or affiliated with Fletcher and SBPRA, in alphabetical order:
Author Marketing Ideas (authormarketingideas.com)
Author Services International (authorservicesinternational.com)
Best Selling Books Rights Agency (bestsellingbooksrightsagency.com)
Cookbook Marketing Agency (cookbookmarketingagency.com)
ePubCo (epubco.com)
Inquiry Connection (inquiryconnection.com)
Inquiry Ed (inquiryed.com)
Memoir Publishing (memoirpublishing.com)
Professional Publishing Press (professionalpublishingpress.com)
Publish On Demand Global Africa (publishondemandglobal.africa.html)
Publish On Demand Global Australia (publishondemandglobal.australia.html)
Publish On Demand Global China (publishondemandglobal.china.html)
Publish on Demand Global India (publishondemandglobal.india.html)
Publish On Demand Global Japan (publishondemandglobal.japan.html)
Publish on Demand Global Korea (publishondemandglobal.korea.html)
Publish On Demand Global Latin America (publishondemandglobal.latin-america.html)
Publish On Demand Global Nigeria (publishondemandglobal.nigeria.html)
Publish on Demand Global Philippines (publishondemandglobal.philippines.html)
Publish on Demand Global Singapore (publishondemandglobal.singapore.html)
Publish On Demand Global South Africa ((publishondemandglobal.south-africa.html)
Rapid Illustrations (rapidillustrations.com)
SBPKidsBooks (sbpkidsbooks.com)
Sight Word Ebooks (sightwordebooks.com)
The Education Publisher (theeducationpublisher.com)
The IB Library (theiblibrary.com)
The PYP Student (thepypstudent.com)
The Translation Teacher (thetranslationteacher.com)
#
In February 2008, Robert Fletcher and The Literary Agency Group filed a retaliatory lawsuit against Writer Beware, alleging defamation, loss of business, and emotional distress. On March 18, 2009, the suit was dismissed with prejudice by the Massachusetts Superior Court, due to Fletcher's failure to respond to discovery or otherwise prosecute the lawsuit (see SFWA's official press release).
On July 31, 2009, the Court granted Writer Beware's motion to recover legal fees and expenses incurred in defending the suit, ruling Fletcher/TLAG's claims insubstantial, frivolous, and not advanced in good faith (the ruling can be seen here. Also see SFWA's official press release).
In September 2009, as a result of a public consumer-related investigation, the Florida Attorney General filed suit against Robert Fletcher, Writers' Literary Agency and associated businesses, and several staff members, for deceptive business practices. The suit was settled in February 2014. While Fletcher and the other defendants did not admit guilt, they did agree to submit to a series of conditions relating to the business practices identified in the suit, to hire an Independent Compliance Monitor to oversee implementation of the conditions, and to pay $135,000 in court costs and author reparations (an amount increased to $145,000 when they missed one of their payment deadlines). As yet, Writer Beware has not heard from any writers who've received compensation.
There's a full account at Writer Beware's blog.
Except for graphics, and where specifically indicated, all Writer Beware® contents copyright © Victoria Strauss
MAY NOT BE REPRODUCED WITHOUT PERMISSION