WRITERS' SERVICES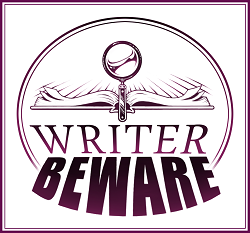 Page updated/links checked 1/29/2022
Copyright Registration and Timestamp Services
Manuscript Pitch Websites/Electronic Slush Piles
Pre-Publication Publicity
Query and Submission Services
Publicists
Marketing and Promotion
Paid Book Reviews
Vanity Radio and TV
Book Fair Display
Bookstores and Paid Shelf Space
Enormous numbers of people are writing and trying to publish books. This vast universe of aspiring authors has fueled an equally gigantic proliferation of schemes and scams aimed at writers–and has also spawned a variety of services supposedly designed to assist them.
While some of these services are genuinely intended to help, many are no more than efforts to cash in (particularly the post-publication services, most of which are explicitly aimed at writers who are self- or small press-published). They aren't necessarily scams, but most will not help you very much. Since they can be quite expensive, it makes sense to do some careful checking before pulling out your credit card.
Many writers think it's necessary to register copyright for their unpublished work. It's not. By law, you have copyright from the moment you write down the words; no further action, such as registration, is necessary. Most countries have no official registration process; the United States is one of the rare exceptions. It's also the only country to make registration a pre-requisite for taking legal action against infringement.
Even in the US, though, there's no need to register copyright if you're still at the submission stage. Theft of unpublished work is vanishingly rare. A good agent or publisher won't risk their reputation by stealing; a bad agent or publisher isn't interested in your work, only in your money. Registration becomes important only when your work is exposed to a wide audience: in other words, published.
See Writer Beware's Copyright page for a full discussion of these issues.
In the US, there is no legal substitute for registration with the US Copyright Office. Even so, there are many non-official copyright registration and timestamp services that advertise online or via spam. Some are just pass-throughs: they submit registration documents to the Copyright Office on your behalf–though at a seriously inflated cost ($100 and up for something you could do yourself for $45).
Others encourage you to send in your work, promising that they'll provide their own "registration" documents or certificates or seals, often based on some sort of timestamp that's supposed to establish a date of ownership. But such documents and timestamps can easily be faked, and are unlikely to stand up in a court case. Plus, in the few countries that offer an official copyright registration process, the only thing that has legal standing is registration with the copyright registration source, such as the US Copyright Office.
Copyright registration services are not worth paying for…and not just because they provide a service you don't need. Some are scams, as detailed in this post from Writer Beware's blog.
Manuscript pitch websites promise to showcase your writing to agents and editors, displaying query letters, excerpts, synopses, biographies, and more for publishing professionals to scan through at their leisure..
Some pitch sites are free; many charge fees. Most are independent, but a few, such as HarperCollins' defunct Authonomy, have some degree of publishing industry backing or participation. Extra services, such as editing, may be offered at additional cost, or members may be encouraged to exchange critiques and comments. There may be a social media component, on the theory that agents and publishers will pay more attention to offerings that have a greater number of page visits, up votes, or positive reader reviews. Some sites have ranking systems, based either on reader votes or proprietary algorithms supposedly can sort through listings and select the cream of the crop.
Pitch sites first began appearing in the late 1990's, and were enthusiastically greeted as writers' Great New Hope: a brand-new opportunity to bypass publishers' closed-door policies and agents' huge slush piles. Agents and editors, the sites declared, would be eager to visit venues where manuscripts were pre-sorted into easily-searchable categories and genres, where submissions were pre-screened for quality or pre-selected for popularity, and best of all, where they wouldn't have to look at another unsolicited query.
However, established agents and editors, their offices already bulging with submissions, really weren't all that interested in looking at manuscripts online–especially since the pitch sites' search functionality often wasn't very effective, and pre-screening tended to be unreliable (particularly when the people running the display sites didn't have publishing industry experience). As a result, display sites have never really caught on (see . Success stories were few and far between: even Authonomy, which boasted the backing of a major publisher, never led to more than a handful of publishing deals out of the thousands of manuscripts uploaded to the site.
Worse, while reputable agents and editors mostly stayed away from pitch sites, marginal and questionable agents and editors regularly cruised them–not exactly the kind of contact the hopeful writer was looking to make.
For more than 20 years, Writer Beware has been watching pitch sites come and go. The very few that have survived are the biggest and most successful in promoting both themselves and their writers–but even they have been forced to branch out from their original mission. For instance, Authorlink, which now offers many other services in addition to its Publishers Market.  (For a look at some of the pitch sites that have popped up on Writer Beware's radar, as well as agents' unenthusiastic reaction to the debut of a new one, see this post from Writer Beware's blog.)
If you're thinking of using a pitch site, ask some careful questions.
How long has the site been in business? Choose stable sites that have been active for at least a year.
How large is it? The bigger, the better. Sites with only a few dozen offerings aren't worth an agent's or publisher's time–or yours.
Who's behind the site? If the site is backed by a reputable publisher, or the owner has publishing industry experience, it's more likely the site will be professionally run and promoted.
Does the site actively promote itself to the publishing community? This often isn't easy to discern. Most sites don't provide a lot of information on their promotional efforts. Doing a websearch on the site can sometimes give you an idea.
Who uses the site, and how are they screened? Again, this can be difficult to discover, but it's something you should do your best to investigate. Some sites provide lists of the agencies and/or publishers who are members (but be sure to do some checking; such lists don't mean much if most of the companies are marginal or charge fees). If a feature of the site is professional critiques or readings, or an arrangement with agencies and/or publishers to look at top-ranked manuscripts, those names should be disclosed. Even if you believe the site does a good job of screening, treat any contact you receive with caution, and research before responding to make sure the contact is genuine.
Are there success stories? Real success stories suggest a pitch site that is actually used by agents and publishers. Don't take the stories at face value; always research them, to make sure the agency or publisher is genuine.
What's the cost? Some pitch sites–including some of the most high-profile–are free. Others charge fees, ranging from small to three figures. Given all of the above, it's unlikely that the higher fees are worth it.
Last but not least: use a pitch site as an adjunct to your own submission efforts, not as a substitute for them. Evidence that agents and editors make much use of pitch sites remains slim–and anyway, you stand the best chance of success if you cast a wide net.
For nonfiction authors especially, "platform" (a following or network that a publisher can use to promote your book) is increasingly important. Capitalizing on this trend, some companies and individuals offer "pre-publication" publicity services aimed at building platforms for platformless writers. They promise to get you radio and print interviews, speaking engagements, TV appearances and the like–the goal being to celebrify you or establish you as an expert in your field.
But unless you're already a celebrity, have genuine expertise, or have a noteworthy human interest story, these efforts have nothing to build on. Most authors' only claim to fame is their book–which, until it's actually under contract, is of little interest to the media. You and your unpublished manuscript are not news–no one is going to want to interview you just because you wrote a book and are trying to get it published.
Other pre-publication publicity services offer to act as a kind of middleman, contacting publishers and agents on your behalf. The fact that you've already hired a publicist, they claim, will impress professional publishing people, because it proves you're really serious about your career. This is similar to the logic employed by vanity publishers, which want you to demonstrate your commitment to your book by "investing" several thousand dollars. The only accepted middlemen in the publishing industry are literary agents. Far from being impressed by the fact that you've hired a publicist, most agents and editors will assume you've been duped.
Pre-publication publicity services can be expensive. Some cost thousands of dollars a month. For most writers, they provide little or no benefit, and are a complete waste of money.
Some services offer to do your manuscript querying and/or submitting for you, or to automate the submission process.
Many do little more than fire off your query to a supposedly proprietary list of agents, publishers, and producers. Even if everyone on the list is reputable (a very big if), and the agents, etc. are suitable for your material (another large if–services like this do minimal if any targeting), such form queries are likely to be regarded as spam or junk mail by those who receive them.
A couple of examples of query blast services: Equery Direct, which for the low, low price of $39.95 will send out your query "individually to over 300 Screenplay Agents and managers instantly via email"; and Screenwritingstaffing.com, which blasts your query to "over 3,000 industry pros and buyers…that have subscribed to our email list over the last 8 years", for $74.99 (the 8-year inclusion horizon tells you all you need to know about this list: lots of the mail addresses on it will be defunct).
Query blast services are absolutely not worth paying for.
Other submission services promise a more targeted, "matchmaking" approach. Some will assess your work and refer you to appropriate agents and/or publishers (such as Jennifer Wilkov's Literary Agent Matchmaker service). Others will take over the entire submission process for you, from writing a cover letter (or editing yours), doing market research to identify likely publishers and/or agents, sending out submissions, and tracking submissions and rejections for you. Some examples of this kind of service: Writer's Relief and The Poet's Billow.
If you're short of time and can afford the fees, you may feel it's worth the cost not to have to hassle with the time-consuming busywork of submission. However, be aware that even the best of these matchmaking or custom services really only do what you could do yourself, with time and effort (or should be able to do yourself–if you can't write a decent query letter, or aren't able to research agents' and publishers' guidelines, you probably aren't ready to be submitting your work). It's unlikely that they have any greater access to information than you do, or more in-depth contacts with publishers and agents. It's especially unlikely that using a submission service will give your submission extra cachet–particularly since the good ones submit in your name, not in theirs. So you shouldn't hire one of these services in the expectation that it will result in more attention from agents and editors, or give you access to inside information.
Unfortunately, there are many scams in this space, including the "find a publisher for your book" websites that are actually run by assisted self-publishing companies, and are designed to steer you into their clutches. (For more on these predatory "resources", see this post from Writer Beware's blog.)  And the costs can be substantial. You need to carefully assess and research any submission service you're considering using, not just to assure yourself it's reputable, but to make sure it can actually fulfill its promises.
Look for staff who actually have publishing and/or professional writing experience, and can thus be reasonably expected to know how to research publishers and agents (and to distinguish good ones from bad ones). Staff resumes and company information should be present on the service's website, or available on request.
If you want the service to write your query letter, ask for a sample so you're assured they do a good job.
If editing is part of the service, ask for a sample critique so you can assess quality.
Look for a list of the agents and publishers the service has access to, and/or testimonials/success stories that mention specific agents and publishers. Otherwise, you have no way of knowing whether the service submits to reputable sources.
Check for success stories–not just client testimonials, but real publishing credits that have resulted from the service's efforts. The more reputable services post these on their websites. The absence of success stories doesn't necessarily mean the service is dishonest–but it does say something about how effective it is.
Avoid services that claim to act as middlemen (that submit in their name, not in yours). Literary agents are the only recognized middlemen in the publishing industry
Avoid services that claim to "package" your submission with fancy and unnecessary extras: author photos, sample illustrations or cover mockups, and the like. This is often just an excuse to charge a higher fee. Publishers don't want to see these extras–their inclusion will immediately identify the submission as coming from an unprofessional source.
Be alert for other kinds of submission services that you probably don't need. For instance, Book Award Pro says it will match your book with appropriate awards programs, and make submissions for you. Is this service worth the $199 per month that Book Award Pro charges? Definitely not. You can research and submit to awards yourself, for free or for hugely less money (as long as you avoid the profiteering awards programs that charge high entry fees). For more information, see Writer Beware's Contests and Awards page.
A special caution for Christian writers: A number of submission services exist especially for Christian writers, and many Christian publishers, in an effort to reduce their slush piles, actively encourage writers to use them. A couple of examples: ChristianBookProposals.com (formerly ECPA 1st Edition) and Writers' Edge.
Generally speaking, these services aren't expensive: $50-100 buys you a listing for a period of weeks or months. However, the listings may be little more than a capsule description of your book (with less information than you'd provide in a query letter) in a catalog or newsletter full of other listings, or an online database where publishers are supposed to go to search for suitable manuscripts. Despite what the services may state or imply on their websites–and despite the major Christian houses that encourage writers to use the services–the truth is that publishers pay them little attention. They can also be ideal hunting grounds for disreputable publishers. Christian vanity publishers are especially active on such services. Writer Beware has heard from many writers who've been approached by vanity publishers as a result.
This article by Terri Pilcher confirms the ineffectiveness of Christian submission services. Writers' Edge places approximately 2% of the manuscripts it lists–and it doesn't reveal how many of those placements are with the vanity presses that use its website. And out of the hundreds of manuscripts listed with ChristianBookProposals.com, reputable publishers bought just 9 in 2007. A representative quote from an editor interviewed for the article: "Sure, there might be a fabulous manuscript in Writer's Edge, but I can't take the time to ferret it out. I'm willing to miss it because I already have all the manuscripts I can buy in my office."
Alternatives to submission services: sites that let you research, curate, and track your own submissions. For instance, a free Submittable account lets you research submission calls and track submissions and rejections (Submittable is used by large numbers of publishers and literary journals). Ditto for Duotrope. A Duotrope membership costs $5 per month or $50 per year, but there's a 7-day free trial that lets you try before you buy.
Reputable traditional publishers–large and small–provide marketing support for their books and authors. This can include producing catalogs, attending publishing industry events, sending books out for review, print and online advertising, and more. Larger publishers can afford a bigger investment in publicity; smaller houses, with smaller budgets, usually can afford less.
In either case, authors are expected to build on their publishers' efforts by being pro-active about self-promotion. Not every author is comfortable with self-promotion, or they may feel that their publisher isn't doing enough. Can hiring a publicist fill the gap?
A successful publicist or publicity firm can be extremely expensive–often, several thousand dollars a month–and there's no guarantee that there'll be a equivalent return on your investment. It can be difficult to tell which techniques worked and which ones didn't, or to track the results of any particular component of a publicity campaign. You may find yourself at the end of the experience with little idea as to whether the money you just spent made much of a difference.
Also, not every book is suitable for a publicity campaign. Publicists focus on generating wide exposure and volume sales; for books with niche audiences and limited demand, the expense may not be warranted. Ditto for books that aren't widely available–whether that's because they exist only in a single format (print only or ebook only), or have limited distribution, or have been published via a method or a publisher that can't respond quickly to a lot of orders (there's little point in creating demand if the demand can't be fulfilled). The same goes for books that can't be ordered on terms that booksellers prefer–for instance, if they're not returnable.
Remember also that for maximum effectiveness, a book publicist needs to be hired before your book is published. Some of the most important PR work takes place in advance of publication: major review venues, for instance, want to receive books three to five months before their pub date. Your publicist should be willing to work with your publisher, so their efforts won't conflict or be duplicative.
If you do decide to hire a publicist, choose one with a verifiable track record of successful campaigns. Ideally, case studies and clients should be shown on the publicist's website. Look for a publicist who has experience promoting books like yours–they are more likely to be able to effectively target your campaign. Request samples of the publicist's materials, so you can assess quality. Ask around. If you know other writers, or are a member of a professional writers' group, you may be able to get recommendations or helpful advice.
Just as important: be clear on your goals. Ask yourself not just what kind of exposure you'd like, but what kind of exposure is feasible. We all want to be on Oprah–but realistically, most books and authors don't dovetail with Oprah's interests (nor does every publicist have the skills and contacts to pull those kinds of strings). Research books like yours to see what kind of publicity they're getting. If you're a self- or small-press-published author, you may want your publicist not just to obtain interviews and media coverage, but to help you get your books into physical bookstores. Some publicists who specialize in self- and small-press-published authors are set up to act as distributors, offering the standard discounts and returns policies that booksellers prefer.
Most of all, keep your expectations realistic. Don't, for instance, assume your publicist will be able to make your book a bestseller.
You also need to be careful. There are lots of charlatans about. Some things to watch out for:
A publicist who is not transparent about their experience or their work. A publicist's website should include information about staff and their credentials, as well as a list of clients and information about recent projects. You want to be sure the people you're dealing with are qualified, and that they've conducted successful campaigns.
A new publicist with no relevant work experience. These days, starting a service is as easy as creating a website. Just as there are unqualified people who set themselves up as literary agents and freelance editors, there are unqualified people who set themselves up as publicists. Look for relevant professional background, such as experience in publishing or previous experience in book marketing. This is especially important if the publicist is just starting up. And don't assume that skills in other publicity areas are transferable. Book marketing is a highly specialized field.
Vagueness about fees or what services will be provided. You want to know exactly what the publicist will be doing for you, according to what schedule, and how much it will cost. Ideally, the publicity plan should be part of the contract or letter of agreement. As noted above, do some careful thinking ahead of time to nail down your goals and objectives; don't rely on the publicist to come up with all the ideas.
A publicist who doesn't offer a contract or letter of agreement. For your protection, get everything in writing–and if it's not in writing, don't expect to get it. Shady publicists may try to soothe nervous clients by making promises they don't intend to keep.
A publicist who relies heavily on cheap and easy techniques like press releases, e-mail campaigns, and video trailers. These are among the least effective (and least expensive to provide, which means you're probably being overcharged) of all promotional methods. Arguably, someone like this doesn't deserve to be called a publicist. See Book Marketing Services, below, for more on ineffective marketing techniques.
A one-size-fits-all approach. A good publicist will carefully tailor their approach to the book and the author, building each campaign individually. Be wary if the publicist sells service packages or a la carte services for you to pick and choose.
Solicitation. Reputable publicists do not generally solicit authors. For questionable or amateur publicists, on the other hand, solicitation may be a major source of business. There are also large numbers of marketing scams that aggressively solicit writers–for more on these, see A Special Warning: Publishing/Marketing/Fake Literary Agency Scams.
A publicist who is not just a publicist. Good publicists specialize: publicity is all they do. They don't double as publishers or editors or ghostwriters. The presence of such services on a publicist's website is strongly suggestive of a scam.
Extravagant promises. Your book sounds like a bestseller! We can get you on Oprah! Responsible publicists know better than to promise what can't be guaranteed.
Bookbub suggests some good questions to ask.
From author and editor Jane Friedman, a helpful article on how to find and work with a book publicist.
Writers who feel they need help publicizing and promoting their books, but can't afford the sort of tailored, personalized campaign provided by a high-powered publicist, may be tempted to use one of the many book marketing or promotional services that offer a range of one-size-fits-all PR options and packages. Similar packages and services are also offered–for extra fees–by many fee-charging publishers and assisted self-publishing companies.
Unfortunately, these services and packages tend to be primarily based on techniques and strategies that are cheap to provide, can be sold at a substantial markup, and aren't particularly effective for book promotion: press releases, book trailers, social media posts and advertising, print ads in venues like Publishers Weekly and the Ingram catalog, pay-to-play radio and TV interviews, book fair exhibits, and more. Others are things you could better do or hire out on your own–website creation, setting up a social media presence, setting up book signings–or could buy directly for a lot less money–paid book reviews such as Kirkus Indie, for instance, which many marketing services sell for double or triple the actual cost.
For a more detailed discussion of why you should be skeptical of one-size-fits-all marketing, see this article from author and editor Jane Friedman.
Marketing/promotional services' fees can be jaw-droppers. For instance, assisted self-pub company AuthorHouse sells a "web optimized" press release service for $1,299. For the money, you get a press release written by a nameless staff person and posted on PRWeb, where it will be in company with thousands of others (press releases are only effective when carefully targeted and individually followed up on). Author Marketing Ideas, a company owned by a long-time scammer, sells "book to film" services for anywhere from $2,500 (for a 10-12 page treatment) to $10,000 and up (for a "full screenplay adaptation"). Book to film or book to screen packages are especially exploitative, not just because of their enormous price tags, but because for most authors, film adaptation is a pipe dream. Even most very successful books never sell or option film rights, and it is far harder to sell a screenplay than it is to sell a book manuscript. (For a closer look at the dishonesty of book to screen packages, see this post from Writer Beware's blog.)
Other marketing/promo services' fees can be deceptively low. For instance, Booksgravy sells social media promotion for just $45 for seven days, and AuthorsBook will feature you in its newsletter and social media for up to ten days starting at $35. Both of these services are aggressive solicitors, contacting authors out of the blue with offers that sound too good (and cheap) to be true. In reality, you get what you pay for: canned tweets and Facebook and Instagram posts blasted out on accounts with low follower engagement (one way to check is to see how many retweets, shares, and comments the posts get–if few or zero, few people are paying attention to the posts). This is so cheap and easy to do that the operators can make money even with the low prices they charge. You, on the other hand, are likely to get nothing for your fee.
At best, book marketing/promotional services based on the techniques described above are a waste of money. At worst, they are scams that will deliver substandard products–or, possibly, take your money and run. Such scams have proliferated in recent years, and they aggressively solicit authors to buy their services. For information and warnings on book marketing scams, see A Special Warning: Publishing/Marketing/Fake Literary Agency Scams.
The book reviews most important for generating sales are pre-publication reviews in venues like Publishers Weekly and Library Journal. These are pretty much out of the question for books from assisted self-publishing services, which don't produce advance reading copies; and difficult to obtain for books published by small presses, which, even if the press sends out advance reading copies, are in competition with books from the larger houses.
Post-publication reviews can be very helpful, however–especially if they come from a reputable source such as a newspaper or an established magazine or a popular book blogger. It can be time-consuming to identify and approach these sources, and not all of your approaches will be successful. There's no reason, however, ever to pay to have your book reviewed.
Reputable book bloggers may ask you to send a print book at your own expense, but they will not charge you a fee for a review. Any book blogger that asks for payment should be avoided. An example, from Writer Beware's blog: a book blogger who contacts authors to offer a review that she only later reveals they'll have to pay for (no surprise, her reviews are substandard).
Two of the major publishing industry review venues offer paid review services. Kirkus Indie, a division of Kirkus Reviews, charges $425 to $575, depending on the level of service. Publisher's Weekly's BookLife Reviews are slightly cheaper: $399 to $499. Both claim that reviews are done by their regular reviewers; neither promises a good review, and both allow you to choose not to have your review published if you don't like it.
Is it worth the money? If you get a good review, you may feel it is. Still, many people will recognize it as a paid review (because of the transactional nature of paid reviews, they have less cachet). And what if the review is mediocre, or even bad? That's a fat chunk of change to drop for a review you may not want to use.
Many independent websites also offer paid review services. Some promise "professional quality" reviews for a price. Others have a membership system–you pay the membership fee, you get a review. Part of the service may be a feature in the service's newsletter, or distribution of the review or a press release to (supposedly) targeted media. More money may buy you more perks: posted excerpts, front page placement, etc. You could even be eligible for a starred or featured review, or for an awards program conducted by the review provider.
However, information on the credentials and experience of the reviewers is typically not provided, so you may not have any idea whether the person writing your review actually has any qualifications to do so. Reviews may be cursory, or poorly written, or little more than regurgitated back cover blurbs. Featured website placement or newsletter inclusion won't mean very much if the review provider's audience is small–and it's a rare provider that is willing to disclose subscriber numbers and /or website traffic. As for "targeted distribution", you have no way to know whether it's really targeted or just the same ineffective junk mail methods used by book marketing services.
Reviews from such services are not well-regarded, partly because the reviews are so often unprofessional, but also because they are nearly always positive (it's a buyer's market, after all). There's another risk as well: a number of paid review websites collaborate with predatory assisted self-publishing services like the Author Solutions imprints, or with the many publishing and marketing scammers that aggressively solicit authors.
Some paid review services that fit the cautions above:
US Review of Books ("Professional Reviews for the People") offers reviews at a range of prices, from $99 to $249, with a large number of "add-on features", such as promotion in US Review's newsletter (no subscription numbers are mentioned), available for anywhere from $50 to $499. Unusually for a paid review site, it lists at least some of its reviewers–but it also allows its services to be re-sold by some of the worst of the publishing/marketing scammers, at seriously inflated prices.
Hollywood Book Review and its "division" Pacific Book Review sell review services starting at $300 (for a standard review) and rising to $595 (for the "dual book bundle"). Reviewers are named but no bios are provided. Like US Book Review, these two services are extensively utilized by publishing and book marketing scammers–so much so that many of the scammers have  their own payment pages and special discounts. The publishers listed here are a who's who of scam outfits.
City Book Review runs a suite of review sites, including San Francisco Book Review, Manhattan Book Review, Seattle Book Review, Portland Book Review, and Kids' BookBuzz. These sites–which also do non-paid reviews–offer a "sponsored review program" at costs ranging from $199 (standard service) to $349 (expedited service). They also sell podcast reviews for $300. They provide no information on reviewers or circulation.
Alternatives to paid book reviews: approaching book bloggers (here's a list from Reedsy), contacting local newspapers and other publications, listing your book on NetGalley. A 6-month NetGalley standard title listing costs about the same as a Kirkus Indie review. Some professional authors' and publishers groups have NetGalley programs for lower costs: for instance, SFWA offers slots for $40 per month, and you don't need to be a SFWA member to apply.
Vanity radio and TV stations or hosts require guests to pay for interviews or program segments.
Some apparently legit TV and radio shows are entirely paid content, though you'd never know it from their websites. Assisted self-publishing services may have their own radio and TV shows, where authors can buy slots for a fee. Many of the book marketing services discussed above re-sell interviews and features from fee-charging radio and TV hosts (often at a steep upcharge), or are paid a percentage or a finder's fee to send volume business hosts' way.
There's no circumstance in which it makes sense to pay for radio or television time. Pay-to-play radio programs, which may be broadcast on obscure AM stations at odd hours, or exist only on low-traffic internet radio stations, reach small audiences and offer correspondingly low exposure. Ditto for pay-to-play TV, which also may be confined to the internet, or if distributed, may be available only in very limited local markets. You may not even get that that much visibility: some paid radio and TV hosts don't broadcast at all, and your interview will be nothing more than a video or audio clip posted on YouTube and available for you to include in your own website. Since prices can reach into the four-figure range, vanity radio and TV simply aren't worth it.
Some examples, drawn from Writer Beware's files:
A number of companies and services offer to bring your book to national and regional book fairs, displaying it on their racks or in their booths. Additional perks and services may be available, as part of a package or a la carte as add ons: press releases, PR materials such as bookmarks, enhanced display on a special table or at the front of the booth, an ad in a magazine or catalog produced especially for the fair, even author events and signings. Fees vary from a few hundred dollars to several thousand, depending on what's included.
The idea is that book fairs, which are attended by large numbers of publishing industry professionals as well as members of the public, provide an ideal venue for exposure and discoverability, especially for self-published authors or small press authors whose publishers have limited PR budgets. The reality, however, is rather different. Companies that provide this kind of service are often relegated to a distant corner of the fair where there's little foot traffic, or a spot off the floor that's easy to walk past without stopping (such as the Consolidated Book Exhibit, which is usually positioned near the fair entrance). Your book will be displayed alongside scores or even hundreds of others, with no special hand-selling or promotion beyond its position on a shelf or on a table.
Up until a couple of years ago, book fair display was one of the most frequent offerings from the kinds of book marketing services discussed above. But the pandemic hasn't been kind to book fairs: postponements, downsizing, awkward in-person/virtual hybrids, and demise have narrowed their reach and thinned their ranks. BEA, once the premier book fair in the USA, was canceled for good in 2021. As a result, book fair display services are less common than they were. They're still out there, though. Here's what you may encounter.
Despite the digital revolution, brick-and-mortar bookstores are still an important source of book sales. For self-published and small press authors, however, achieving shelf presence can be a major challenge. Limited distribution, lack of marketing, and books that aren't available on the terms that booksellers prefer (full returnability and at least a 40% discount) all increase the odds against a physical bookstore stocking your book–or even knowing that it exists.
Various programs and services exist to help with this–some helpful and some not so much.
Many independent bookstores have consignment programs for local authors (this article takes a look at how such programs work). The bookstore will want to assess your book for quality, and you'll have to supply the books yourself at your own expense and possibly pay a small stocking fee. The bookstore will keep a percentage of the sales proceeds. Especially if your publisher or publishing service offers a poor author discount, the promise of exposure may be offset by the potential for losing money.
Rather than a consignment arrangement, some bookstores "rent" a limited amount of shelf space. The same issues apply, but depending on the size of the shelf fee, this can be a good deal more costly than a consignment program. Paying for shelf space is common in the retail industry,, where such fees are known as slotting fees. In publishing, however, slotting fees are paid by publishers–not by authors. So you really want to think carefully before investing in something like this.
Bookstores that are entirely devoted to self- and small press-published authors, who pay for presence. There aren't many of these, but they are out there. Here's one example. Again, this can be a costly option, depending on the fees. Since these are not conventional bookstores, they may be in out of the way locations where there's not much foot traffic. It may not be worth paying for shelf space in a store few people visit.
Scams. A small number of vanity publishers and publishing/marketing scammers run physical stores, charging authors exorbitant fees for shelf space, signings, featured placement, and more. Paying an independent bookstore for shelf space can be an iffy proposition, but these are independent businesses whose profits come from book sales, not author fees. If your pay-to-play publisher or publishing service runs a bookstore, it's the opposite: squeezing money out of authors is the main objective, and any book sales are gravy. A couple of examples:
Creative Books is run by publishing/marketing scammer Authors Press (which also does business as Westwood Books Publishing), though you wouldn't know that from its website, which presents it as an independent store. It doubles as a school and party supply store, with books occupying half or less of its shelf space. It uses store presence as a way to inflate the fees it charges for other services, such as marketing and book fair display packages. Shelf space is also for sale directly.
The Reading Glass Books is owned by predatory publishing/marketing service Writers' Branding, though its website makes no mention of the connection–nor do its phone solicitors, who call to offer authors shelf space for $350. The store, which is tucked into a strip mall in an out-of-the-way location, also hosts signings and author events (for additional fees). Writer Beware takes a closer look.
Except for graphics, and where specifically indicated, all Writer Beware® contents copyright © Victoria Strauss