Guest Post: Proprioception
by Nnedi Okorafor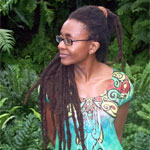 I've always been interested in people labeled as "abnormal" or "abomination".
In my novel Zahrah the Windseeker, Zahrah is born with the "curse" of vine-laden dada hair. In The Shadow Speaker, Ejii is a "freakish" product of nuclear fallout and peace bombs. Who Fears Death's main character is an "ugly half-breed" with skin and coarse wooly hair the color of desert sand. In my recent short story, "The Book of Phoenix" (which is linked to Who Fears Death), Phoenix was created in a lab. She is two years old but looks and feels 40 (she even has hot flashes!) and calls herself as an "abomination".
I continue to explore physical abnormality in my two latest stories. "Wahala" is a short story published in the Life on Mars anthology and set in the world of The Shadow Speaker. Its main character Fisayo is a product of the nuclear apocalypse like Ejii. Fisayo is venturing across the Sahara Desert because her parents think she should not have been born. In my novel Akata Witch, Sunny is an American-born albino Nigerian girl who learns that she's also a witch.

Outcasts, freaks, the disfigured, the grotesquely enhanced… I write their narratives.
And stories spin from the webs of other stories.
I have a thin neat dark brown scar that runs from the base of my neck to the small of my back. I earned this "warrior's badge" when I was 19, when doctors fused a portion of my spine to stop the progression of idiopathic scoliosis.
I was a born athlete—I loved sports and mastered almost every one I tried. Then, after a growth spurt when I was 13, I suddenly developed scoliosis, which over the years became more and more serious.
By high school, I was one of those kids who had to wear a back brace (though mine was a body cast beneath my clothes). It was my own physical prison; it was like walking around in a cage. I was always ecstatic when I got to remove it for track or tennis practice (and for a while, gymnastics practice, too).
Finally, after my first year of college, I had spinal surgery. The doctors assured me that I would be back on the tennis court in two weeks; that there was a 99% success rate for what they were going to do.
I woke up from the surgery paralyzed from the waist down.
I spent the entire summer in relearning how to walk; by the end, I recovered my ability to run and do athletics. (I tell the whole momentous tale here.) My doctor didn't know what caused my scoliosis, nor did he know why the surgery caused paralysis.
Afterwards, I could run fast, but I didn't have the same control. I could hit my forehand and serve but I couldn't run around the ball on my backhand side to smash my famous inside-out forehand. I could jump, but not effortlessly control where my feet landed when I came down. My proprioception (the awareness of the position of one's body) is still about 85 percent. Losing my quickness was devastating. It was a personal apocalypse; an end to the way I lived and the future I expected. I had to learn to live in the aftermath.
I suspect that this was the root of my obsession with the apocalypse and the post-apocalyptic world—as well as my interest in spontaneous forests and other random phenomena.
The paralysis took the key element of my athletic gift—that impossible quickness of my feet that defined my world and practically gave me the ability to fly. At the same time, as a standard part of the surgery, the doctors lashed a stainless steel rod to my spine. I like to think this makes me a rudimentary cyborg.
Being paralyzed led me to becoming a writer. While in that incapacitated state, I began spinning stories in order to go to the places I physically could not. It was no surprise that those stories were science fiction and fantasy, and that their main characters tended to be people with amazing abilities and "deformities."
While creating these stories, I started thinking about Nigerian beliefs. There are all sorts of mythologies that "explain" physical abnormalities. As with any other culture, most were negative. For example, according to what I've read and heard, albinos, hunchbacks and dwarves are routinely killed by ritualists even today.
These ritualists believe that a hunchback's hump is like a wizard's backpack (that's my analogy, but you get the point), containing magical powers that can be used for mystical powders and medicines. Albinos are often accused of witchcraft. Long ago, in Igbo culture (note: I am Igbo), twins and other multiple births were seen as monstrous; immediately afterwards, the "extra" babies were thrown into the bush. It was believed that only "animals" gave birth to multiple offspring at one time. In contrast, the Yorubas saw twins as extraordinary people, giving them special names and believing them to have important destinies.
In the United States, we have a different set of homegrown mythologies about the body: Western (predominantly Euro-centric) ideals of beauty and perfection. Americans pluck, wax, shave, pull out, purge, surgically remove, surgically add, sand, color, bleach, burn, tape, mold, cut, starve their bodies all in the name of looking "good,""normal," and "presentable." There is often an assumption that human bodies are supposed to be "perfect" (whatever this means) and when they are not, then something is wrong with them. This sentiment has nothing to do with physical health or individual variations.
I may be slender and tall—the cultural ideal for women—but if you look closely, my spine is shaped like a slight "S". And this subtle "S" cannot not be corrected or hidden; it is mine. "Normalcy" was never an option for me. I had two choices. I could hide this mild abnormality and accentuate the parts that society valued (a paradox, considering they're all part of the same body) or I could embrace that which was me—long legs, svelte frame, scoliosis and all. I chose to embrace my self—and, in some ways, it wasn't a choice at all. I've always been one to go in the direction nature pushes me.
I think most people can relate to the idea of "normal" vs. "abnormal" on some level. It's important that we remember that "normal" isn't always normal and "the norm" shouldn't always be the norm. And that what makes us each unique is what makes us amazing.
All this was especially on my mind when I wrote Akata Witch. In the novel, one's special ability comes from her or his natural idiosyncrasies. There is a woman who can change into a snake because of her scoliosis. There is a boy who can undo any bad juju because of his dyslexia. Tall people have the ability to read the stars and short people can read the earth. And my heroine, Sunny, is an albino girl who finds she can do some interesting things, too. I wanted the story to be full of adventure, diversity, atmosphere, and old mysticisms—but also healing and empowerment.
We are what we are. And that's where the beauty and the stories reside.
•••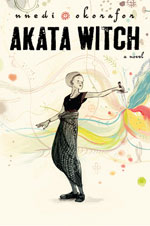 Nnedi Okorafor is the author of the critically acclaimed novel Who Fears Death (winner of the RT Reviewer's Choice Award for Best Science Fiction). Her other novels include Zahrah the Windseeker (winner of the Wole Soyinka Prize), The Shadow Speaker (winner of the CBS Parallax Award) and Long Juju Man (winner of the Macmillan Prize for Africa). Her novel Akata Witch (Penguin Books) was released in April and her Disney chapter book, Iridessa and the Fire-Bellied Dragon Frog, will be released in 2012. Okorafor holds a PhD in literature and is a professor at Chicago State University.
This post first appeared at Penguin.com.