VANITY ANTHOLOGIES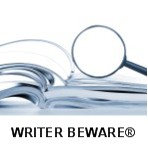 Links checked/Page updated: 1/22/13

In this version of the vanity anthology scheme, writers are targeted via a free contest.
Here's how it works. The anthology company announces a writing contest (announcements may appear in newspapers, writers' magazines, sponsored search engine ads, and on the company's website), with cash prizes for the finalists and publication in an anthology for finalists and semi-finalists. Usually, there are no entry fees. Writers can often submit as many poems, stories, or articles as they wish.
The contest isn't a real contest, however. There may be some degree of selectivity, but if so, it's minimal–the majority of  writers who submit are declared semi-finalists and offered publication, with little regard for quality. The company then asks for money. Even if purchase of the anthology isn't a condition of publication, writers are pressured to buy the book in which their entry will appear (or several, to give to family and friends), often with offers of special pre-publication discounts. The company may also sell adjunct services or merchandise–critiques or editing, adding a biography, having a poem or story read onto audio tape, having a poem embossed on a coffee mug…the list goes on.
Unlike true anthologies, which are sold to readers, vanity anthologies are sold primarily to contributors. Iliad Press, Sparrowgrass Poetry Forum, The Amherst Society, The Poets' Guild, Poetry Press, Poetry Unlimited, The National Archives, and JMW Publishing are just a few of the many anthology companies that either require or pressure writers to buy the anthology in which their writing appears.
Most vanity anthologizers target poets, but there are also anthologies for short stories, nonfiction articles, and photography. Though vanity anthology companies are principally based in the US, vanity anthologizing is an international phenomenon–for instance, the Poetry Institute of Africa, the Poetry Institute of Australia, and the Poetry Institute of Canada.
The International Library of Poetry, known online as Poetry.com (a.k.a. The International Society of Poets, The International Poetry Hall of Fame, and a number of others) was the Godzilla of the vanity anthology world, and its methods were the model for dozens of other, less prolific vanity anthology schemes. The ILP put out two or three anthologies every year–big, thick hardbound books that contained thousands of poems crowded together on thin pages–and its contest ads were ubiquitous online and in writers' magazines. Semi-finalists (just about everyone who submitted) were offered dozens of ways to spend money beyond the purchase of books, and the ILP was relentless in its solicitation of those who entered its contests, encouraging them to enter yet more contests, offering opportunities to join poets' societies (which demanded $100 or more in annual dues) or attend poetry conferences (which cost as much as $600, travel and hotel not included). Often, celebrities and professional poets gave these events a false veneer of respectability.
In April 2009, the ILP went out of business, and its notorious Poetry.com URL was acquired by self-publishing service Lulu.com. Lulu is continuing the contests, but has gotten rid of the anthologies and other vanity-style activities. (There's a more detailed discussion of the changeover at Writer Beware's blog.) Unfortunately, there are more than enough vanity anthology companies still in business to take up any slack created by the ILP's demise.
For the most part, vanity anthologizers do publish the promised books, and writers who buy books or merchandise do get what they pay for. So most vanity anthology schemes don't quite qualify as scams. But they are deceptive and misleading–especially since so many anthologizers portray their anthologies as a real literary credit that writers can be proud of. In reality, the anthologies are available by special order only, with most sold to the contributors themselves or to their friends and families. Anthologies never see the inside of a bookstore, and, contrary to what some anthologizers claim, aren't routinely purchased by libraries. Because of the poor quality of most of the poems, anthology credits are not respected by publishing professionals–no matter what the anthology companies' literature says.
Sadly, many authors are taken in by this deception, which is aided by magazines and newspapers that report on local writers' inclusion in vanity anthologies as if they were a genuine literary market. I've heard from people who've spent $1,000 or more on books, merchandise and conferences. Elderly people are a particular target, as are teens–some vanity anthologizers specialize in soliciting teachers, who don't realize that the anthologies aren't a legitimate venue and are very willing to recruit student participants.
In this version of the vanity anthology scheme, writers must pay for inclusion in the anthology, usually by buying large numbers of finished books or other merchandise.
Pay to play anthologies typically are nonfiction, usually on subjects of general or inspirational interest, and actively capitalize on their superficial similarity to successful series like the Chicken Soup books (which, by the way, not only don't require payments or purchases, but offer a small honorarium to contributors). Writers are often targeted by spamming, but also by legitimate-looking calls for submission on the anthology companies' websites, on the Internet, and writers' forums and communities. None of these solicitations mention that a cash outlay is involved–you usually have to dig pretty deep into the submission guidelines to find that out.
For instance, the Wake Up…Live the Life You Love series of anthologies requires contributors to buy up to 500 books at a cost of several thousand dollars, and boasts that its anthologies include articles by such well-known figures as Dr. Wayne Dyer and Tony Robbins (likely, these are articles that the series owner has bought a license to re-use). The anthologies published by Inspired Living Publishing require contributors to pay thousands of dollars for "marketing packages" that include not just large numbers of books, but various promotional aids of dubious effectiveness.
The companies make a big point of emphasizing how much profit writers can realize if they sell the books, since they're purchasing them for less than list price. But for someone who doesn't already have a captive audience, it's not so easy to flog several hundred books. It's much more likely that contributors will never get their money back.
Pay to play anthologies tout themselves as an opportunity for entrepreneurs and business owners to enhance their professional images by presenting themselves as published authors and using the anthology as a kind of business card. For someone with plenty of money to spare, might this be a reasonable form of publicity?
Possibly, given that the general public has no idea that these schemes exist and won't know you bought your publishing credit–and assuming that the anthologies are professionally produced and edited (not a guarantee–this is definitely a case of try before you buy), and that the anthology company will actually send you the books you purchase. But if you're seriously considering paying for something like this, ask yourself whether it's worth laying out several thousand dollars just to be able to say you got published in an anthology series no one ever heard of–and whether you really want several hundred books that you'll either have to hustle to sell, or stuff in a dark corner of your basement.
Pay to Play Anthologies
From Writer Beware's blog: an expose of Inspired Living Publishing, which charges between $2,197 and $5,497 for inclusion in its anthologies.
Also from Writer Beware's blog: Wake Up…Live the Life You Love, another pay to play anthology, which requires contributors to either buy 200 books for $2,697, or 500 books for $5,497 (at the higher number, authors get their names on the cover!)
Free Contest Schemes
Poetry CONtests from Hell, by Eileen Kernaghan of the League of Canadian Poets. (The League's website includes links to a number of legitimate contests.)
Poet Beware, my own article on the many scams and pitfalls that lie in wait for poets (originally published in the 2004 Poet's Market).
PoetryNOTcom: One poet's personal experience with Poetry.com, a.k.a. the ILP. There are some examples here of the flattering letters the ILP sent to poets who entered its contests.
Wergle Flomp couldn't get a rejection slip from the ILP, but editor Teresa Nielsen Hayden could and did. How did she manage it? The answer is as funny as the poem (and check out the poetic stylings of the many people who've commented on her blog entry).
Publishing Poetry Legitimately
A comprehensive FAQ from the UK's Poetry Society.
Except for graphics, and where specifically indicated, all Writer Beware® contents copyright © 1998-2013 Victoria Strauss