2009 winners Campbell and Sturgeon awards
We are especially pleased to see that SFWA member Cory Doctorow's Little Brother has just been awarded 2009 John W. Campbell Award for the best science fiction novel of the year. His novel tied with Ian MacLeod's Song of Time which is only the third time in the history of the award that the jurors have ended in a tie.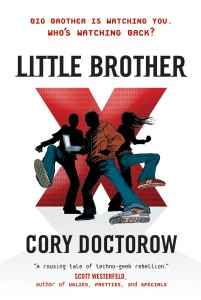 Cory also holds another important first. He is the first person to win both the Campbell Award for Best New Writer and the Campbell Award for Best science fiction novel.
The Campbell award is shared by Cory Doctorow's "Little Brother" (Tor Books) and Ian MacLeod's "Song of Time" (PS Publishing). James Alan Gardner's "The Ray Gun: A Love Story" won the Sturgeon award. The authors will accept their awards July 10 at KU and will be featured at the Campbell Conference on Saturday, July 11, and Sunday, July 12.

This is only the third time in the history of the Campbell award that the balloting of the jurors has resulted in a tie. In 1974, Arthur C. Clarke's "Rendezvous with Rama" and Robert Merle's "Malevil" tied. In 2002, Jack Williamson's "Terraforming Earth" and Robert Charles Wilson's "The Chronoliths" tied.
via KU News.