Quick Updates for 2009-12-08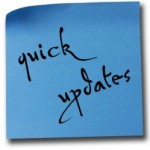 Resources
Member News
Aliette de Bodard: Get your Servant of the Underworld reading samples here
Congratulations to Paolo Bacigalupi whose novel THE WINDUP GIRL is on TIME's top ten novels of 2009!
Check out Cindy Pon's Indonesian cover for "Silver Phoenix." It's her first overseas cover.
Congratulations to Alex Bledsoe whose novel BURN ME DEADLY is nominated for 2009's "Best Urban Fantasy" award from RT.
SFWA members, don't forget you can add your readings and signings to the SFWA event calendar.
Industry News