Quick Updates for 2009-12-11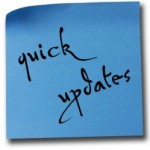 Resources
Mamatas has a interesting post (w/photo evidence!) of how Xlibris "markets" a book for which they've charged writer's fees:
Member News
SFWA member Yasmine Galenorn hosts a month long pre-release party for the release of Bone Magic, her 7th Otherworld book.
Congratulations to Jennifer Brozek for her short fiction sale "Eulogy for Muffin" to the Ladies of Horror anthology.
Congratulations to Laura Anne Gilman for her short story sale "Werelove" to the anthology RUNNING WITH THE PACK.
Congratulations to Sherrilyn Kenyon whose SF novel Born of Ice is #1 on the New York Times and Publisher's Weekly lists!
Industry News