Quick Updates for 2010-04-22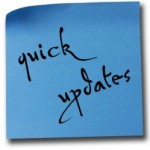 Member News
Congratulations to SFWA member Matthew Johnson who just sold his story "Holdfast" to Fantasy Magazine.
Today's 100th episode of PodCastle is SFWA member Will Ludwigsen's story, "Remembrance is Something Like a House."
SFWA member Ellen Kushner & others have signed books for "Fight Breast Cancer with Books for Boobs" auction. Bid generously.
The Agony Column Podcasts SFWA member Blake Charlton's reading from Science Fiction in San Francisco.
SFWA member David D. Levine's Google Tech Talk (60 min) about his trip to "Mars" is now available on You Tube.
Welcome to SFWA's newest Affiliate member Athena Andreadis, author of The Biology of Star Trek.