Quick Updates for 2010-06-01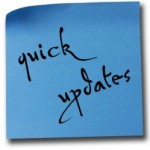 Resources
Member News
Armageddon or Paradise? SFWA member Edward M. Lerner announces his new flip book, with a touch of both.
Robert J. Sawyer's WWW: WAKE just won Canada's Aurora Award for Best English-Language Novel of the Year. It is Sawyer's 11th Aurora!
Congratulations to SFWA member, Rachel Swirsky, who upgraded to Active membership.