An Interview with Kay Kenyon
by Cat Rambo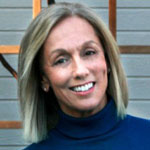 Science fiction and fantasy writer Kay Kenyon's novel The Seeds of Time appeared in 1997. Since then she's followed with Leap Year (1998), Rift (1999), Tropic of Creation (2000), Maximum Ice (2002) and The Braided World (2003), as well as epic series The Entire and the Rose. Currently she's finishing her first fantasy novel. She is the chair of the Write on the River writer's conference in Wenatchee, Washington.
The Braided World is perhaps my favorite of your books. Where did the book have its genesis – a particular idea, scene, character? It's also got a lot of beautiful but visceral imagery – was that a deliberate strategy or just what the book demanded?
This story is loosely related to my book Maximum Ice. In Maximum Ice I asked what might happen if all information was a physical quantity subject to the law of entropy. When an information-poor cloud of stellar dust passes by, threatening to pull information, people here create a protective mechanism ("Ice"). After the disaster, a minor character asks: I wonder what happened to all that information? In Braided World I explored the answer. The sensual imagery of the habitat sprang from my decision to make it a beautiful tropical world. I was also playing with the juxtaposition of brutality and beauty to see how the newcomers deal with that push-pull.
Your first book of the epic The Entire and the Rose, Bright of the Sky, is available for free on the Kindle. How do you think that's affected sales? Is that a strategy you'll pursue again in the future? How do you see ebooks changing the publishing industry and how much attention should writers be paying?
We experienced an immediate, and so far sustained, spike in sales of paid Kindle for the other three books in the series. So just when the series in paper had crested, along came a new wave. I'm starting to believe that giving away free stories–those that represent you at your best–can greatly boost your profile, especially–but not always–if you have some brand recognition. "Oh, I've heard of her, let me give this free book a try." Without obsessing about ebooks and their evolution, we should pay close attention. The possibilities intrigue me: better connections with readers, new income streams and even freedom from genre.

How did your Write on the River writers conference come about and what lies down the road for it?

When I moved east of the mountains ten years ago, there was no full-spectrum writers' conference in the area. Arts communities in North Central Washington were thriving, but as for writers, nothing sustained or organized. "Let's have a conference," I suggested, and suddenly we had 150 local writers wanting to meet each other. We're now a year-round organization. We love the boutique conference we have (every May), but we'll be enriching our year-round events to keep people inspired and connected.
You talked in a Locus interview about using what Rudy Rucker termed "the power chords" of science fiction, but you're currently working on a fantasy novel. Are you doing something similar with the power chords of fantasy?
I'm always attracted to secret, arcane realms, which is one great subect of fantasy. I started in that direction with The Entire and the Rose, which I've (loosely) been calling a science fantasy for its quest theme and fantastical adventure. But as I started writing my first true fantasy I became a little drunk on the possibilities of how fantasy tropes converge. Right now I'm playing with things like mythology, lost worlds and twisted history. Yes, all at once.
Your world building is both highly detailed and on a large scale, while you've got casts swarming with characters. How do you track everything when writing something as big as a novel, let alone a four book series?
1. Style sheet as I go. All special terms, places, names and who they are.
2. 3-ring binder (overall and for each book) with tabs for background notes. –Idea thanks to C.J. Cherryh.
3. Scene list as I go. Allows me to scan for appearance of key events: oh right, scenes 8, 29 and 36 all deal with the white tigers. Show POV and, in margins, time passage.
4. A big box. At end of day, everything goes in. It doesn't keep me especially organized, but it prevents madness.
•••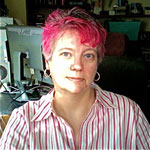 Find Cat Rambo's fiction at her website. She teaches at Bellevue College, acts as a board member for Broad Universe and serves as a volunteer with Clarion West. Her most recent publication is her short story collection for Kindle and other e-readers. Look for upcoming work in 2011 in Abyss & Apex, Beneath Ceaseless Skies, Bull Spec, Daily Science Fiction, Giganotasaurus, Lightspeed, and more.