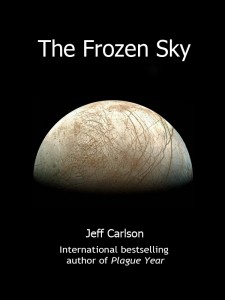 To celebrate the milestone of Lucky 13,000 ebooks sold of his 99-cent novella "The Frozen Sky," Jeff Carlson is giving away free copies of his other short story collections as Mobi or ePub files.  You can choose your freebie at http://www.jverse.com/blog/
Originally published in Writers of the Future XXIII, "The Frozen Sky" is a near-future sci fi thriller set beneath the ice of Jupiter's moon Europa.
Publishers Weekly called it "Pulse pounding."
"A tense adventure story" said Locus Magazine.
Reprinted twice in English, "The Frozen Sky" has also been translated into Czech, Estonian, Polish and Romanian in publications overseas.  In the Czech Republic, its appearance in Pevnost Magazine initiated a small bidding war for Carlson's "Plague Year" trilogy.