Quick Updates for 2011-11-03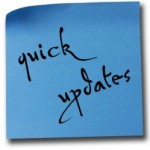 Member News
Welcome to new SFWA member D. Walters Grintalis!
SFWA member Jennifer Brozek was interviewed for Another Passion.
SFWA member Allan Cole has 50% OFF on audiobooks at Audible, including STEN, THE TIMURA TRILOGY, and THE FAR KINGOMS SERIES.
Congratulations to SFWA member Felicity Shoulders who sold her 2nd novelette "Long Night on Redrock" to Asimov's. Teaser here.
SFWA member Nancy Kress's original novella of BEGGARS IN SPAIN, winner of both the Hugo & Nebula Awards is available as an ebook from Arc Manor. (Both Nook and Kindle formats.)
SFWA member Ferrett Steinmetz's "Little House On The Prairie In Space" novella "Sauerkraut Station" is at Giganotosaurus.