Nebula Award Nominations Close Today, Feb. 15th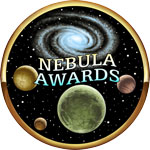 SFWA Active and Associate members, today is the last day to nominate for this year's Nebula Awards. You may do that online with the Nebula Awards nomination ballot. Your ballot must be received by Wednesday, Feb 15th, 2012, at 11:59pm PST in order to be counted.
Please nominate, and then help us encourage other members to nominate as well.
Don't forget to register for the Nebula Awards Weekend!