In Memoriam: Mark Bourne (1961-2012)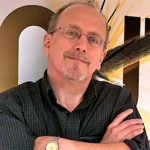 Author Mark Bourne, 50, died Saturday February 25, 2012.
His short fiction appeared in Asimov's Science Fiction, The Magazine of Fantasy & Science Fiction, Realms of Fantasy, and numerous anthologies.
He was a teacher, scriptwriter, film reviewer for film.com, and producer of science shows for planetariums and museums.
He is survived by his wife, Elizabeth Lawhead Bourne.