Nebula Awards Weekend: Join us for the E-book Decision!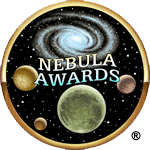 The E-book Decision: Do it yourself, delegate it, or don't do it at all? Thinking of self-publishing an e-book? Whether you're a new writer looking for an audience or a seasoned pro with an unencumbered backlist, you're probably weighing the risks against the rewards. How much work is it to do it yourself? What are the pitfalls? How much would it cost to have someone else do it? Where do you put it? How do you promote it? Is this a good use of your time?
Explore the answers to these questions during SFWA's Nebula Awards Weekend, May 17th to 20th at the Hyatt Crystal City in Arlington, Virginia near Reagan National Airport.  There's a panel on Saturday morning and a workshop on Saturday afternoon on E-Publishing.
More information is available at the Nebula Award Weekend page. Book your hotel room by April 24th to get the $109.00 (plus tax) rate. The rate for the Nebula Awards also increases on May 1st, so register now! You don't have to be a nominee, a member of SFWA, or even a writer to participate in the weekend.
Please contact nebulaweekend@sfwa.org with any questions.