Top Authors Contribute to Shared Worlds
Shared Worlds News Release: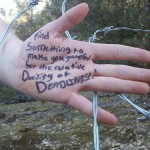 SF/Fantasy Teen Writing Camp Launches 2013 Registration and Donation Drive
Gene Wolfe, Neil Gaiman, Patrick Rothfuss and thirty more of the most imaginative writers, artists and editors from around the world have contributed to Shared Worlds' "Hand in Hand" a webpage of advice written and photographed on the author's hand, designed to inspire and motivate new writers. Their advice is in support of the Shared Worlds registration and fund drive for 2013. Every summer up to 50 teen writers come to Shared Worlds SF/F Teen Writing Camp at Wofford College in Spartanburg, South Carolina, from as far away as Finland and Japan to participate in this unique camp.
Our "Hand in Hand" webpage is the cornerstone of a donation drive intended to ensure that attending the Shared Worlds Teen Writing Camp can be a possibility for all registered students, no matter what their financial need. Monies will join major support from Amazon.com and contributions from donors like Warren Lapine.
At Shared Worlds, the students form teams in classrooms to build entire fantasy or science fictional worlds in the first week and then write stories in those worlds the second week. Top professional writers are on hand to provide feedback and to conduct workshops. The guest writers for the 2013 include New York Times bestsellers Holly Black as well as Shirley Jackson award winner Nathan Ballingrud, Hugo Award winner Ann VanderMeer and our Amazon.com writer-in-residence, Karen Lord. The teens also get to attend author readings, take fieldtrips to bookstores, and create videos about their imaginary worlds. Shared Worlds also publishes an annual book of the students' writing. Wofford College provides a structured, supervised environment in which the students can excel and demonstrate their creativity.
"For many of our students, Shared Worlds is a transformational experience," said the camp's co-director, fantasy writer Jeff VanderMeer. "They not only learn more about writing, they also get to have fun solving problems in the world-building groups, and they form what will probably turn out to be life-long friendships with like-minded teens."
The contributors to the "Hand in Hand" range from such icons as Jane Yolen and Joe Haldeman to exciting new authors like C.S.E. (Claire) Cooney and Sharon Shinn. Therese Goulding served as editor for the contributions.
Additional Links:
Hand in Hand advice alphabetically by author: www.wofford.edu/sharedworlds/handquotations/
Shared Worlds Website: www.wofford.edu/SharedWorlds/default.aspx
Donation Page: www.wofford.edu/sharedworlds/donate/
Registration Page: www.wofford.edu/SharedWorlds/inner-register.aspx