Event: Michael A. Burstein Imagines Technical Communication in 2073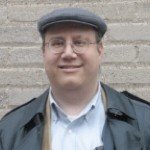 From The New England Chapter of the Society of Technical Communication:
Live in the Northeast? Please join us in Burlington, MA!
Live elsewhere? Please connect through our webinar!
In the future – 2073, to be precise – will people still need to read procedures? Will they still have to read instruction sheets to put their furniture – or their spaceships? Will they still need to look stuff up?
Michael A. Burstein, a long-time member of SFWA, will share his ideas at the October meeting and webinar of the New England Chapter of the Society for Technical Communication. Burstein has a Master's in Physics and has published frequently in Analog magazine. He is a winner of the Campbell Award and a frequent Hugo and Nebula nominee for his short fiction. Find out more here.
A panel of seasoned technical communicators will respond:
Neil Perlin—A tech comm consultant with 20+ years' experience, Neil is undaunted by any technical challenge, including the latest demands for mobile technical documents. His webinars and presentations on the theme "Beyond the Bleeding Edge" always bring technical writing up to the minute.
Marguerite Krupp—A technical writer, editor, and manager with many years' experience, a Fellow of the Society for Technical Communication, Marguerite brings long experience, depth of understanding, and a great sense of humor to the challenges and changes of technical communication.
Steve Greffenius—A technical communicator with wide-ranging technical experience, who has held the full range of professional roles from writer to manager to STC New England President, Steve brings curiosity and insight to possibilities we can only glimpse now.
Please join us in person or through our webinar on October 16, 2013.
Webinar: $15.00
Sit-down dinner and program Burlington, MA: $25.00 for SFWA or STC members– use our membership rate and notify us that you're from SFWA
For complete program information and directions, click here.