Tools for Writers: Shelfari
by Cat Rambo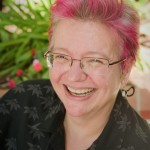 Shelfari is, like GoodReads and LibraryThing, another social book cataloging website. Online book retailer AbeBooks owns a large percentage of the company. Users catalog the books they own or have read and can rate, review, and tag those books as well as discussing them on the site. It has been owned by Amazon since 2008, so you should be able to sign into it with your Amazon account. If you are an Amazon.com author, you will be listed as such on the Shelfari site, and it's worth exploring the Shelfari site for the benefits it brings to your Amazon book listings.
The dominant metaphor on the site is that of the bookshelf, and each user has a virtual bookshelf that shows their books along with information they've entered, such as notes, ratings, and reviews. You can feature these on your website.
You can connect your account to your Facebook and Twitter accounts and show your activity on it on your webpage.
One feature of the Shelfari front page is the user list section, which showcases user-created lists, such as "My Favorite Books About Food," "Best Mystery/Suspense Novels Published by Small Presses," or "Books that Changed the Way I Think."
Shelfari also features an Authors Unbound program, in which every author has a place where people can share information about the author, discuss their work, and discover new stuff by them. This page allows you to connect directly with your readers of Shelfari.
For authors, one of the nicest features about Shelfari is the ability to add a great deal of extra information about your book. The information will show up both on Shelfari and the Amazon.com listing. Among the sections you can fill out are:
Book description
Ridiculously Simplified Synopsis (a one sentence summation)
Plot Summary
Important People
Memorable quotes
First Edition
Awards
Tags
More books like this
Books that influenced this book
Books influenced by this one
Note that you can edit sections for other books, which means you can add your book to the "More books like this" or "Books influenced by this one." While I wouldn't get too carried away with that (the site is monitored for spamminess), certainly make sure your own book is keyworded well so more readers can discover it.
•••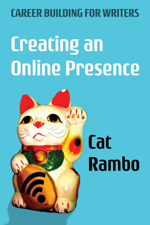 Nebula and World Fantasy Award-nominated writer and SFWA member Cat Rambo just released her first nonfiction book, Creating an Online Presence (Careerbuilding for Writers). Her short stories have appeared in such places as Asimov's, Tor.com, and Clarkesworld Magazine. She is the former editor of Fantasy Magazine. Find links to her work at http://www.kittywumpus.net.