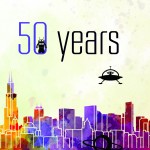 The Science Fiction & Fantasy Writers of America (SFWA) would like to invite YOU to attend the 50th Anniversary Nebula Conference & Awards Banquet.
This year, SFWA will host the 50th Anniversary Nebula Awards & Conference at the Palmer House Hilton in Chicago, IL – May 12-15, 2016.
The SFWA Nebula Conference is a four day series of lectures, seminars, symposiums, receptions, career advancement and networking opportunities for authors and other publishing industry professionals. It will include a day and a half long seminar on Intellectual Property rights and will culminate in the announcement of the winners of the 50th Nebula Awards with this year's toastmaster, John Hodgman.
Program highlights include receptions each evening. At Thursday's Welcome Reception, we will honor this year's Damon Knight Grandmaster Award recipient, C.J. Cherryh. Friday, the reception honoring this year's nominees for the Nebula, Bradbury, and Norton Awards will immediately precede a mass autographing session for all author attendees. The autographing session will be open to the public. Saturday evening begins with the Pre-Banquet Reception and will culminate with the Nebula Awards Banquet and the Awards Ceremony.
Conference membership or special event tickets are required to attend most Nebula Conference programming items and receptions. Rooms are still available at the conference rate at our host hotel, the Palmer House Hilton.
For more information and registration: www.sfwa.org/nebula-awards/2016-nebula-conference/