2016 Andre Norton Award Jury Recommended Reading List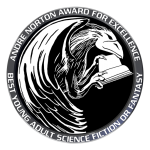 As part of the SFWA Nebula Awards process this year, the Andre Norton Award Jury went to work reading eligible young adult and middle grade fiction. Starting early in 2016, six volunteers had the difficult task of narrowing down a lot of fiction. Through all that reading, they've come up with a recommended reading list in addition to the finalists that have already been announced. We hope you enjoy.
SFWA would like the jury for their dedication. Volunteers included Ellen Klages, Leah Bobet, Eugene Myers, Jei D. Marcade, and Fran Wilde. Additionally, SFWA would like to thank Rina Weisman for her efforts in book solicitation.

2016 Andre Norton Award Jury
Recommended Reading List
(in alphabetical order by author)

Kelly Barnhill
The Girl Who Drank the Moon (Algonquin)
With swamp monsters, tiny dragons, witches, and things that aren't ever as they seem, The Girl Who Drank The Moon begins as a cautionary tale. (That's understating the case, actually.) Let me start again. A delicious meal of a story, containing so much love and hope, tempered with hints of Le Guin's Omelas and Grimm's fairy tales, and served via a fast-paced adventure. (Nope, that's not entirely it either.) One more try: magic and moonlight, swamp poetry and seven-league boots, sacrifice and redemption – a whole world hung on a butterfly wing of a story. I can't love this book enough and will happily read it again and again.

Frances Hardinge
The Lie Tree (Macmillan)
The Lie Tree had me from the initial ferry into exile. It held me through village intrigue, murder, and evolutionary mayhem. Hardinge's linguistic turns make every sentence sing, but what renders The Lie Tree a book I'll keep and buy more to give away are the vivid voices, the wide-awake and morally complex characters – children and adults both, and the tap root of truth that runs through every page.

A. J. Hartley
Steeplejack (Tor Teen)
Can I even holler loudly enough about how refreshing it is to see a WOC protagonist (who is also, in a way, a teen mom) in a solidly written page-turner that thoughtfully explores the intersections of sex, race, and class? This is steampunk that explores the sociocultural effects of colonialism without sacrificing the breakneck speed of an intriguing mystery.

Heidi Helig
The Girl From Everywhere (Greenwillow)
Debut novelist Heilig takes the time-traveling adventure genre one step farther with a densely-plotted, high-stakes heist that's tempered beautifully with an understanding of obsession, addiction, and the very real pull of not just leaving home, but having one. A historical thriller with a splash of the mythic, The Girl From Everywhere delivers pure sense of wonder tempered with the weight of hindsight—and a deftly applied appreciation of consequences, both good and bad.

David D. Levine
Arabella of Mars (Tor)
Jane Austen meets Jules Verne in this exciting interplanetary adventure. Arabella is a native of Mars who returns to a much more restrictive earth society. When her family is threatened, she must chase a villain across space. A strong female protagonist, fabulous historical technology, and a fast-paced plot with lots of twists and turns makes this a real page-turner.

Katharine McGee
The Thousandth Floor (Harper Collins)
A really fun ride in a sumptuous near-future world in which cutting edge technology both surrounds and inhabits the citizens of a class-conscious arcology. This story weaves together multiple narrative threads and is painted with the sort of interpersonal intrigue that I imagine would attract fans of Gossip Girl and Pretty Little Liars who may not necessarily fancy themselves SF readers.

Philip Reeve
Railhead (Switch Press)
Delivers a fresh and thrilling premise: an intergalactic railroad linking distant civilizations that are populated with fascinating, complex, and flawed characters—humans, aliens, and androids alike. This provides a unique and rich setting for a high-speed heist, which ends up being much more as truths about young Zen Starling and the society he lives in are peeled away. A promising start to an expansive, provocative science fiction series for all ages.

Lindsay Ribar
Rocks Fall, Everyone Dies (Kathy Dawson Books)
Eerie and hilarious all at once, Rocks Fall, Everyone Dies combines a fresh magic system with a deeply serious look at power, independence, consent, and consequences—and what it means to choose who you want to be. Ribar grows her complex characters with real nuance, and the result balances laugh-out-loud humor and absolutely relevant themes with the deftness of a Terry Pratchett novel.

Patrick Samphire
Secrets of the Dragon's Tomb (Henry Holt)
Evokes the boy adventures of the Golden Age of science fiction, improving on the dated formula for thoroughly modern readers. Ironic, perhaps, because Samphire artfully mashes up Regency Era English society with distinctly Martian chronicles—and, oh yes, a cavalcade of dinosaurs, dragons, and monstrous machines. With beautiful illustrations from award-winning artist Jeremy Holmes and a steady flow of nail-biting cliffhangers, this page-turner has plenty to amaze and entertain anyone who is young or young at heart.

Delia Sherman
The Evil Wizard Smallbone (Candlewick)

A town out of time, transfigured seals, were-coyotes on motorcycles, a sentient bookstore, and a cantankerous small-town Maine wizard—The Evil Wizard Smallbone is full of whimsy, and balances it all perfectly with the practicality of a working-class tourist town. Soaked with just the right mix of wryness and visceral danger to keep the pages relentlessly turning, Sherman weaves together deep-down kindness, menace, and sheer, gently odd delight into a story that's not just fun, but wise about growing up, whether you're young or old, and the stubbornness and strength it takes to save others—and yourself.

April Genevieve Tucholke
Wink, Poppy, Midnight (Dial Books)
Tucholke transforms the classic love triangle between a beautiful mean girl, a bookish heroine, and the boy caught between them into an atmospheric, phantasmagoric, incisive look at the difference between people and stories—and the consequences of mistaking one for the other. Written in sharp, secret, compelling prose, Wink, Poppy, Midnight turns the tropes of young adult novels inside out while still telling a riveting, ghostly story.

Diane Zahler
Baker's Magic (Capstone Young Readers)
A heartwarming middle-grade fantasy adventure that offers several different kinds of magic. Featuring a strong female heroine, an unusual quest, an epic ecological battle — and pastries! You'll never take trees for granted again.