Posts Tagged 'Kage Baker'
Featured Book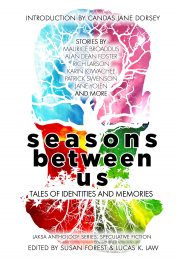 What is a life well-lived? Travel with 23 SF&F authors through the seasons of life to capture the memories and moments, as they cope with their own journeys of growing older. Recommended by Publishers Weekly, Library Journal, and Kirkus Reviews.
Featured Member
Rebecca Gomez Farrell
Rebecca Gomez Farrell writes speculative fiction and reviews food and drink at TheGourmez.com. Her novel, Wings Unseen, debuted in 2017. Two dozen of her shorter works have appeared in publications such as Beneath Ceaseless Skies and PULP Literature.