RIP: Kage Baker 1952-2010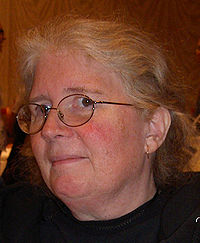 Kage Baker has passed away this morning after a fierce struggle with cancer. She was best known for her Company novels, including In the Garden of Iden. For months, she had fought the uterine cancer privately, but the tumor spread to her brain.
The Green Man review posted this letter from her sister, Kathleen.
She died at 1:15 this morning. She had begun to have difficulty breathing early this evening; I gave her  atropine and morphine for the breathing problems and the pain, but by about 8 PM she slipped into unconsciousness. The last thing she requested was to have her pillows adjusted – she said she was more comfortable, and after that she said nothing else. She became unresponsive very shortly thereafter, and by her own request, no heroic efforts were made.

Her sister Anne and nieces Kate and Emma were up this weekend, and watched with me for most of the evening.  At about 1 AM her breathing got louder and lighter and more urgent, though her pupils were not responsive to light; there was a rush of bile from her mouth, and then she passed away very quietly in our arms.

Kage's body will go to MedCure, a body donation program working on training surgery students. They will cremate it and return the ashes to me in about 3 weeks. Her ashes will then be scattered half from Catalina Island and half from Plaskett Creek beach near Big Sur.
For a beautiful appreciation of her, please visit Marty Halpern's site to read "In the Company of Kage Baker"
Kage's family and friends have our deepest sympathy. Science fiction has lost a brilliant light.