Nebula Awards Weekend: Tragedy is Easy!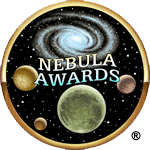 On May 18th, join Connie Willis, SFWA's newest Grand Master, as she explains that when it comes to writing, tragedy is easy; comedy is the killer.  Contributing panelists include James Patrick Kelly, James Morrow, and John Scalzi.
Another guest featured at this year's awards is Colonel Mike Fincke, an astronaut who has logged more days in space than any other American. He has served two tours aboard the International Space Station and has flown on one Space Shuttle mission as a Mission Specialist. He has taken nine spacewalks and has a total EVA time of almost 49 hours–good enough for 6th place on the list of spacewalkers. A big fan of science fiction, Colonel Fincke is excited to have a chance to talk with writers at this year's Awards Weekend.
Note:  Today, April 26th, is the last day to make a reservation at the discount rate of $109.00 (plus tax), so book your hotel room now! The rate for the Nebula Awards also increases on May 1st. You don't have to be a nominee, a member of SFWA, or even a writer to participate in the weekend. Join us!
Please contact nebulaweekend@sfwa.org with any questions.