Rollout by Brian Dana Akers
Rollout by Brian Dana Akers
Comments are closed.
Featured Book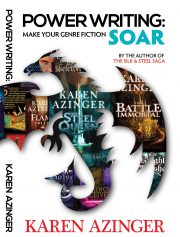 Learn how to write bold genre fiction that will enthrall your readers. Novice writers learn about 'tells' that warn agents of amateur writing. Veterans discover the flavors of world building and description from the eye of the beholder.
Featured Member
Nathan Lowell
Nathan Lowell has been a full time SF/F fan since before there was a space program and a full time novelist since 2012.