Rollout by Brian Dana Akers
Rollout by Brian Dana Akers
Comments are closed.
Featured Book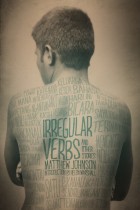 Discover the inflationary effects of a dragon's hoard, the secret connection between Mark Twain and Frankenstein, and the magic power of blackberry jam in this debut collection of strange, funny, and bittersweet tales.
Featured Member
Mark Niemann-Ross
Mark Niemann-Ross is a Portland-based writer of hard science-fiction and has appeared in Stupefying Stories and Analog; his upcoming novel is a murder mystery solved by a refrigerator.