Rollout by Brian Dana Akers
Rollout by Brian Dana Akers
Comments are closed.
Featured Book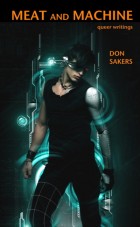 Don Sakers has been queering science fiction and fantasy for three decades. Meat and Machine collects 24 short pieces of science fiction, fantasy, nonfiction, and erotica from across his career.
Featured Member
Craig DeLancey
Craig DeLancey is a writer and philosopher. His novel, Gods of Earth, is published by 47 North Press. He teaches philosophy at SUNY Oswego.