The Little Christmas Tree: A Cautionary Tale
How the dystopian apocalypse really begins…
Comments are closed.
Featured Book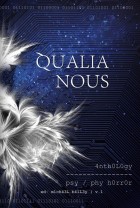 A literary blend of science fiction and horror, Qualia Nous contains short stories, novelettes, and poetry from established authors and newcomers from around the world. Featuring the imaginations of Stephen King, Gene O'Neill, William F. Nolan, and others.
Featured Member
Amanda C. Davis
Amanda C. Davis is a combustion engineer and short-fiction author who bakes excellent macarons and watches terrible slasher movies. She tweets enthusiastically as @davisac1.