The Little Christmas Tree: A Cautionary Tale
How the dystopian apocalypse really begins…
Comments are closed.
Featured Book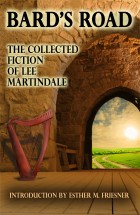 Twenty-nine short stories by Lee Martindale, including reprints from major anthologies and four never-before-published works. Introduction by Esther M. Friesner, cover art by Melanie Fletcher.
Featured Member
Mindy McGinnis
Mindy McGinnis is an assistant YA librarian who lives in Ohio. She graduated from Otterbein University magna cum laude with a BA in English Literature and Religion. Her debut Cli-Fi novel, NOT A DROP TO DRINK was published in 2013 by Harper Collins.