Quick Updates for 2011-05-22
Comments are closed.
Featured Book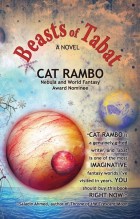 In a city torn with political strife, a boy named Teo and a female Gladiator try to find their bearings.
Featured Member
Sharon Lynn Fisher
Tor author Sharon Lynn Fisher is an RWA RITA Award finalist and a 3-time RWA Golden Heart Award finalist. She lives in the Pacific Northwest, where she writes books for the geeky at heart – sci-fi stories full of adventure and romance.