Quick Updates for 2011-05-22
Comments are closed.
Featured Book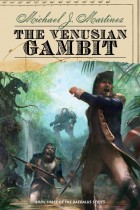 In the thrilling conclusion to the DAEDALUS trilogy, Lord Admiral Thomas Weatherby must defy the English crown and battle the French on Venus in order to stop an ancient evil from rising once more.
Featured Member
Kay Kenyon
Kay Kenyon is the author of 11 sf/f novels including her fantasy, A Thousand Perfect Things, August 2013. Her work has been short-listed for the Philip K. Dick Award and John W. Campbell awards.