Quick Updates for 2011-05-22
Comments are closed.
Featured Book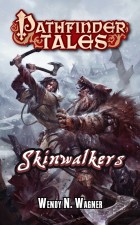 After a youth of piracy, Jendara wants nothing more to settle down and raise her son among the islands she calls home. But that peace is shattered as a clan of shapeshifting pillagers make their way through the islands.
Featured Member
Wesley Chu
Wesley Chu was born in Taiwan and immigrated to Chicago, Illinois when he was just a pup. It was there he became a Kung Fu master and gymnast.
Wesley is an avid gamer and a contributing writer for the magazine Famous Monsters of Filmland. A former stunt man and a member of SAG, he can also be seen in film and television.