Quick Updates for 2012-02-03
Comments are closed.
Featured Book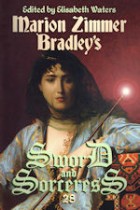 Edited by Elisabeth Water, the annual tradition continues with stories from Dave Smeds, Deborah J. Ross, Michael H. Payne, and others.
Featured Member
David D. Levine
David D. Levine is the author of over fifty published SF and Fantasy stories. His work has appeared in markets including Asimov's, Analog, and F&SF and has won or been nominated for awards including the Hugo, Nebula, Sturgeon, and Campbell.