Quick Updates for 2012-02-03
Comments are closed.
Featured Book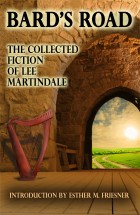 Twenty-nine short stories by Lee Martindale, including reprints from major anthologies and four never-before-published works. Introduction by Esther M. Friesner, cover art by Melanie Fletcher.
Featured Member
Lou Antonelli
Lou Antonelli is a modern speculative fiction author with classic sensibilities, honed by a long career as a newspaperman. His short story "Great White Ship" was a 2013 finalist for the Sidewise Award. He's had 81 short stories published since 2003.