Quick Updates for 2012-02-03
Comments are closed.
Featured Book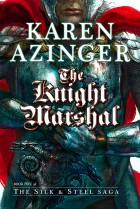 Sorely beleaguered, the Octagon Knights fight with valor, but this war is much more than a contest of swords…it is a battle of souls. The players are being positioned for the Battle Immortal, an epic struggle of Light and Dark.
Featured Member
Mark Niemann-Ross
Mark Niemann-Ross is a Portland-based writer of hard science-fiction and has appeared in Stupefying Stories and Analog; his upcoming novel is a murder mystery solved by a refrigerator.