Quick Updates for 2012-02-03
Comments are closed.
Featured Book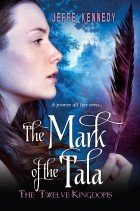 Tales tell of three sisters, daughters of the high king. No one says much about the middle princess until the day she meets a strange man who rules a land of shapeshifters and demons. A country no more than legend-until he claims her as its queen.
Featured Member
Barbara A. Barnett
Barbara A. Barnett is a writer, musician, librarian, Odyssey Writing Workshop alum, coffee addict, wine lover, bad movie mocker, and all-around geek with over 40 short stories published.