Quick Updates for 2012-02-03
Comments are closed.
Featured Book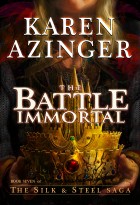 The Battle Immortal is a time when long-foretold prophecies live and die, when magic runs wild, and legends clash with nightmares. This fast-paced epic fantasy is the 7th and final book to The Silk & Steel Saga.
Featured Member
Suzanne Church
Suzanne Church writes Science Fiction, Fantasy, and Horror because she enjoys them all and hates to play favorites. Her book "Elements: A Collection of Speculative Fiction" is published by EDGE SF & F Publishing.