Nothing found
Featured Book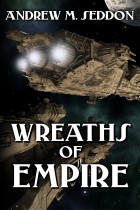 The ultimate weapon.
The peace of the galaxy.
One woman.
Naval Intelligence Commander Jade Lafrey uncovers a conspiracy that could devastate either human worlds or their alien enemies'.
Featured Member
Daniel Marcus
Daniel Marcus has published stories in many genre venues. He is the author of the collection, Binding Energy, and the novels Burn Rate and A Crack in Everything. Daniel was a Campbell finalist and is on the SFF faculty at Gotham Writers' Workshop.
Recent Comments