Nothing found
Featured Book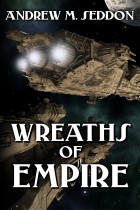 The ultimate weapon.
The peace of the galaxy.
One woman.
Naval Intelligence Commander Jade Lafrey uncovers a conspiracy that could devastate either human worlds or their alien enemies'.
Featured Member
Mark Niemann-Ross
Mark Niemann-Ross is a Portland-based writer of hard science-fiction and has appeared in Stupefying Stories and Analog; his upcoming novel is a murder mystery solved by a refrigerator.