Nothing found
Featured Book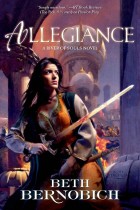 King Leos of Károví is finally dead. Ilse is now free to make the long journey back to where her story began, to complete the journey she attempted lives and centuries before and bring peace between the kingdoms.
Featured Member
Wesley Chu
Wesley Chu was born in Taiwan and immigrated to Chicago, Illinois when he was just a pup. It was there he became a Kung Fu master and gymnast.
Wesley is an avid gamer and a contributing writer for the magazine Famous Monsters of Filmland. A former stunt man and a member of SAG, he can also be seen in film and television.