Nothing found
Featured Book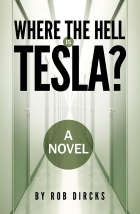 Sci-Fi odyssey. Comedy. Love Story. And of course… Nikola Tesla. "★★★★★ Perhaps the Funniest and Best Audiobook on Audible!" Join Chip and Pete as they stumble into Tesla's interdimensional portal. Can these idiots save the multiverse?
Featured Member
Michael R. Underwood
Michael writes across the speculative fiction world, from urban fantasy (Geekomancy), to fantasy superhero novel Shield and Crocus, and the SF series in novellas, Genrenauts. He is a co-host on podcasts The Skiffy & Fanty Show and Speculate.