Posts Tagged 'James Van Pelt'
James Van Pelt writes on perseverance as a writer.
Featured Book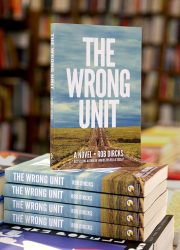 Rob Dircks, bestselling author of Where the Hell is Tesla?, has a "unit" with a problem: how to deliver his package, out in the middle of nowhere, with nothing to guide him. Oh, and with the fate of humanity hanging in the balance.
Featured Member
Daniel Marcus
Daniel Marcus has published stories in many genre venues. He is the author of the collection, Binding Energy, and the novels Burn Rate and A Crack in Everything. Daniel was a Campbell finalist and is on the SFF faculty at Gotham Writers' Workshop.