Posts Tagged 'Jana Oliver'
Member News for Yasmine Galenorn and Jana Oliver.
Featured Book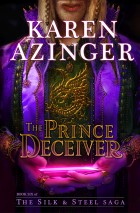 Deceive, divide, corrupt and conquer. Armies sharpen their weapons for a battle of swords while the Mordant engages in a battle of souls in this epic fantasy written in the style of Game of Thrones. Presenting book 6 of The Silk & Steel Saga.
Featured Member
Amanda C. Davis
Amanda C. Davis is a combustion engineer and short-fiction author who bakes excellent macarons and watches terrible slasher movies. She tweets enthusiastically as @davisac1.