Posts Tagged 'Oltion'
Article by Jerry Oltion on writing strategies.
Featured Book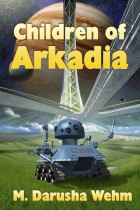 Arkadia, one of four space stations orbiting Jupiter, was to be a haven for all who fought the corrupt systems of Earth, where both humans and Artificial Intelligences could be happy and free. But which will prove more powerful: freedom or happiness?
Featured Member
Don Chase
Born, raised and still living just outside of Boston, Don attended the Art Institute of Boston for illustration and decided that he liked writing better. Now he has six books total that he self publishes with number seven on the way.