Posts Tagged 'Oltion'
Article by Jerry Oltion on writing strategies.
Featured Book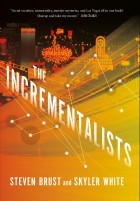 They cheat death, share lives and memories, and communicate across nations and time. They have an epic history, an almost magical memory, and a very modest mission: to make the world better, a little bit at a time.
Featured Member
Tor author Sharon Lynn Fisher is an RWA RITA Award finalist and a 3-time RWA Golden Heart Award finalist. She lives in the Pacific Northwest, where she writes books for the geeky at heart – sci-fi stories full of adventure and romance.