Posts Tagged 'Oltion'
Article by Jerry Oltion on writing strategies.
Featured Book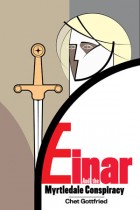 Sixteen-year-old Einar goes to Myrtledale and into a whirlwind of tournaments, assassins, and Barbara Bloodbath's plan for a new ice cream parlor. The tournaments and bake-off contest may end in civil war before any winners are declared.
Featured Member
Alma Alexander
Alma Alexander is a novelist, anthologist and short story writer who currently shares her life between the Pacific
Northwest of the USA (where she lives with her husband and a cat) and the wonderful fantasy worlds of her own imagination.