Posts Tagged 'Oltion'
Article by Jerry Oltion on writing strategies.
Featured Book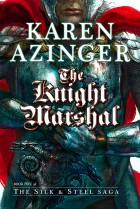 Sorely beleaguered, the Octagon Knights fight with valor, but this war is much more than a contest of swords…it is a battle of souls. The players are being positioned for the Battle Immortal, an epic struggle of Light and Dark.
Featured Member
David D. Levine
David D. Levine is the author of over fifty published SF and Fantasy stories. His work has appeared in markets including Asimov's, Analog, and F&SF and has won or been nominated for awards including the Hugo, Nebula, Sturgeon, and Campbell.