Posts Tagged 'Oltion'
Article by Jerry Oltion on writing strategies.
Featured Book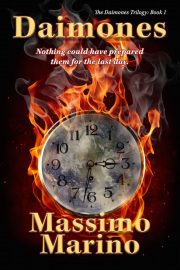 Murder, genocide, the Apocalypse.
Explore the future of humanity in Massimo Marino's sci-fi debut, Daimones, an apocalyptic tale that feels like it could happen tomorrow. You may never sleep through a windstorm again.
Featured Member
Amy J. Murphy
The shady underworld of the high school essay black market was indie author Amy J. Murphy's introduction to writing for profit. She went legit in 2015 with the launch of the Allies and Enemies series. It's reached the Top 50 in space opera on Amazon.