Posts Tagged 'Oltion'
Article by Jerry Oltion on writing strategies.
Featured Book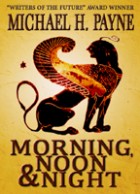 The young sorceress Larissa Noon believes that Andeer's Goddess Queen, banished 500 years ago before the mad sphinx could destroy the world, is now cured and ready to return from limbo. Larissa's the only one who believes this, though…
Featured Member
Michael J. Martinez
Michael J. Martinez is a veteran writer who decided, in an act of blinding hubris, to try his hand at science-fiction and historical fantasy…in the same book.