Nothing found
Featured Book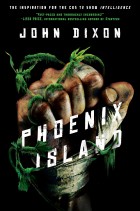 The inspiration for the new CBS TV series INTELLIGENCE.
A tough kid in an isolated boot camp that's turning orphans into super soldiers risks everything to save his friends and stop a madman bent on global destruction.
Featured Member
Teresa Frohock
Teresa Frohock is the author of the dark fantasy Miserere: An Autumn Tale and numerous short stories. Currently, she lives in North Carolina. She has long been accused of telling stories, which is a southern colloquialism for lying.