Posts Tagged 'The Millions'
The Millions provides an overview of this year's Nebula nominated novels.
Featured Book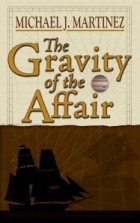 Set in the worlds of The Daedalus Incident, this novella follows the adventures of a young post-captain named Horatio Nelson as he sails the moons of Jupiter on behalf of England. But a chance encounter could derail his career before it truly begins.
Featured Member
Two-time Prix Aurora Award finalist and winner of The Galaxy Project, Forest's stories appear in Analog, Asimov's, OnSpec, Beneath Ceaseless Skies, AE SF Review, and her collection, Immunity to Strange Tales. She edits for Edge Press.