Posts Tagged 'The Millions'
The Millions provides an overview of this year's Nebula nominated novels.
Featured Book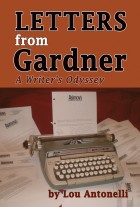 This collection features short stories plus correspondence from Gardner Dozois at Asimov's S-F when the author was breaking into science fiction. Published by John Teehan and The Merry Blacksmith Press, it is 238 pages long and reprints 16 stories.
Featured Member
Paul Levinson
Paul Levinson, PhD, wrote The Silk Code (winner of Locus Award for Best First 1st Novel of 1999), Borrowed Tides (2001), The Consciousness Plague (2002), The Pixel Eye (2003), The Plot To Save Socrates (2006), and Unburning Alexandria (2013)