Posts Tagged 'Tom Rodgers'
Member News for Suzanne Johnson, Julie Washington, Costi Gurgu, and Tom Rodgers!
Featured Book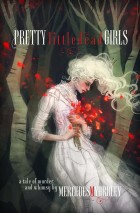 Bryony Adams is destined to be murdered, but fortunately Fate has terrible marksmanship. Mercedes M. Yardley's Pretty Little Dead Girls: A Novel of Murder and Whimsy is a dark, lovely fairy tale with lyrical language and a high body count.
Featured Member
Don Sakers
Don Sakers is the author of the Scattered Worlds Mosaic series. He's explored the thoughts of sapient trees, brought Carmen Miranda's ghost to Space Station 3, and beaten the "Cold Equations" scenario. His book review column appears in Analog.