Posts Tagged 'van pelt'
James Van Pelt writes on perseverance as a writer.
Featured Book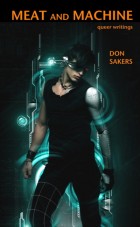 Don Sakers has been queering science fiction and fantasy for three decades. Meat and Machine collects 24 short pieces of science fiction, fantasy, nonfiction, and erotica from across his career.
Featured Member
David D. Levine
David D. Levine is the author of over fifty published SF and Fantasy stories. His work has appeared in markets including Asimov's, Analog, and F&SF and has won or been nominated for awards including the Hugo, Nebula, Sturgeon, and Campbell.