Posts Tagged 'van pelt'
James Van Pelt writes on perseverance as a writer.
Featured Book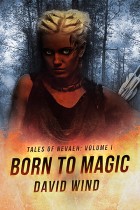 Long ago, a mythical nation known as 'America' died in the violence and radiation of the terrorist wars. Now the survivors dwell in a world of ritual and magic where ten dominions struggle for supremacy while a dark power rises to threaten them all.
Featured Member
Bonnie Jo Stufflebeam
Bonnie Jo Stufflebeam lives in Texas with her partner and two literarily-named cats: Gimli and Don Quixote. Her fiction has appeared or is forthcoming in magazines such as Clarkesworld, Lightspeed, Strange Horizons, and Interzone. She holds an MFA in