Posts Tagged 'van pelt'
James Van Pelt writes on perseverance as a writer.
Featured Book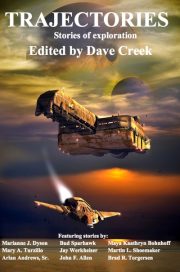 Original stories of space exploration and adventure from Bud Sparhawk, Marianne J. Dyson, Maya Kaathryn Bohnhoff, Mary A. Turzillo, Jay Werkheiser, Arlan Andrews, Martin L. Shoemaker, John F. Allen, and Brad R. Torgersen.
Featured Member
William Alexander
William Alexander wrote Goblin Secrets (National Book Award winner), Ghoulish Song (Mythopoeic Award finalist), Ambassador (International Latino Book Award finalist and Eleanor Cameron Award winner), and, most recently, Nomad (sequel to Ambassador).