Announcement: Moving the new site to sfwa.org on Saturday
On Saturday, August 1st, the website team will bring SFWA's new website out of the extended beta-test we've been in.  This post is intended to be an overview of what to expect during the transition.  Because there is a lot of information to convey, we will be sending SFWA members four emails between now and Tuesday, August 4th, as different parts of the new system come online.
General overview — This went out Friday, July 31, 2009. If you have not received it, please let us know.
Log-in information for the new site.
Log-in information for the discussion forums
A list of the new services and links to instructions on how to use them.
This weekend
Once they flick the switch to change the DNS servers, it could take up to 72 hours for the new site to propagate throughout the internet. What does this mean for you?  It means that when you go to http://sfwa.org over the weekend, you might get the old site, or you might get the new one.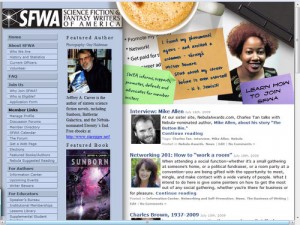 How will you know the difference? The new site looks very, very different from the old site.
What happens to the old website?
The old website contains a lot of wonderful information.  It is archived on the new site and we will continue to transfer information to the new format.  This will take time, but if we waited until we had everything added to the new site, it would be another year.
The last thing I'd like to ask for is your patience. Our volunteers have worked very hard to make this site for you, but  we fully expect there to be mistakes and learning curves as we transition into using the new site.  As hard as we've tried, I'm sure that there are still things we've forgotten or overlooked.  Please bearing with us through the growing pains.