New Nebula Awards Commissioner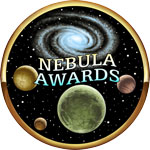 Good Afternoon,
I'm very pleased to announce that SFWA has a new Nebula Awards Commissioner (NAC). Madeleine Robins has agreed to take on this role, and see us through the first year under the new rules.
Madeleine Robins is the author of nine novels, including THE STONE WAR, POINT OF HONOUR, and PETTY TREASON: a double-handful of SF and fantasy novels, has worked in both book and comic book publishing, and has been a SFWA member for an unbecoming number of decades.  In addition to her tenure as Czarina of the Service to SFWA Committee in the '90s, she was Secretary of SFWA in 2001.  She has a hard time resisting volunteer activities. She is a founding member of Book View Cafe, an e-fiction writers' collaborative, and is hard at work on yet another damned book.
I'd like to thank Madeleine for coming on board, and also especially want to note the extraordinary effort given to SFWA by the outgoing NAC, Brook West. Brook has given outstanding service to SFWA and the Nebula Awards for many years, and is deserving of our deepest thanks.
Cheers,
Russell Davis
President
SFWA, Inc.