RIP: Robert Holdstock (1948-2009)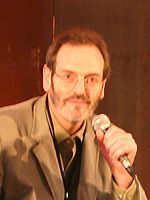 Ansible has reported the tragic news that fantasy author, Robert Holdstock, passed away this morning at the age of 61. He had become ill on August 18th from an e coli infection and was admitted to ICU at the hospital.
His first published story (Pauper's Plot) was in 1968 and he continued to write throughout his life.  In his early career he used a variety of pseudonyms, such as Robert Faulcon, Chris Carlsen, Richard Kirk, Robert Black, Ken Blake, and Steven Eisler.  His breakthrough novel, Mythago Woods, published under his own name, became the start of the Ryhope wood series. It went on to win BSFA Award for Best Novel in 1984 and the World Fantasy Award for Best Novel in 1985.
Our condolences to his partner Sarah Biggs and the rest of his family.