Quick Updates for 2009-12-09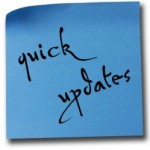 Resources
An article on gothic romance by SFWA member Angel McCoy at Backseat Nightmares
Member News
Fantastic interview with Mike Resnick
Shimmer magazine has audio of Jay Lake reading his story "Shedding Skin" for their Clockwork Junglebook Issue
Congratulations! James Patrick Kelly Wins NH Literary Award
Congratulations to Aliette de Bodard for her sale of "The Jaguar House, in Shadow" to Asimov's
SFWA members: The draft of the new bylaws is up for discussion. Please read and comment.
Congratulations to SFWA members Kami Garcia & Margaret Stohl whose novel "Beautiful Creatures" debuted at #3 on New York Ttimes list.
Industry News
Victoria Strauss: More on Google Book Settlement: France's Sarkozy challenges Google
Agent Jenny Rae Rappaport announces that she is closing The Rappaport Agency.