Announcing SFWA's 2010 Nebula Awards® Weekend, May 13-16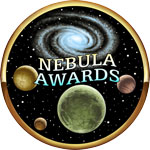 Chestertown, MD — Each year SFWA, the Science Fiction and Fantasy Writers of America, presents the prestigious Nebula Awards® for the year's best literary and dramatic works of speculative fiction. This year SFWA's Nebula Awards® Weekend will be Thursday, May 13 through Sunday, May 16 in Cocoa Beach, Florida, on Cape Canaveral. The date was chosen to coincide with the scheduled launching of the Shuttle Atlantis on Friday, May 14. The Nebula Awards will be presented at a banquet on Saturday evening, May 15, 2010.
The Nebulas will be held at the Hilton Cocoa Beach Oceanfront, just 20 minutes from the Kennedy Space Center. The Friday launch of the shuttle Atlantis will be visible from the beach right outside the hotel. There will be various panels and workshops of interest to the sf/f community.
The Nebula Awards® Banquet will be Saturday night, May 15. Nebula Awards will be given for best short story, novelette, novella, and novel. The Andre Norton Award for Excellence in Science Fiction or Fantasy for Young Adults will also be presented. Renowned author Joe Haldeman will be honored as the Damon Knight Memorial Grandmaster, celebrating a career of extraordinary achievement in the field. Other awards to be presented include the Bradbury Award for excellence in screenwriting and the Solstice Award for outstanding contribution to the field.
The 2010 Nebula Weekend is open to all. Members of the Science Fiction and Fantasy Writers of America receive a discount. Early registration is recommended as space is limited and prices will go up on Monday April 5.
Click here for Registration forms and information.
Full Weekend — $150.00 for general public ($125 for SFWA members & their guests)
The Full Weekend membership grants entrance to all scheduled activities Friday – Sunday, May 14-16, including a banquet meal & the after-banquet Nebula Awards Presentations
Saturday Evening Nebula Awards Banquet Only — $125.00 ($100 for SFWA members & their guests)
The Saturday Evening membership begins with the 7:00 pm ocean deck reception & includes a banquet meal & the after-banquet Nebula Awards Presentations
Nebulas Basic — No banquet meal $55.00 ($40 for SFWA members & their guests)
The Nebulas Basic membership allows entrance to all scheduled activities including the after-banquet Nebula Awards Presentations but does not include a banquet meal
Group Tables:
Publishers and other groups may buy a package of 8 full weekend memberships at a 10% discount. A table will be reserved in the group's name at the banquet. One person should be designated as the group's liaison. The group table must be paid for in one payment -either by check or PayPal. There must be at least one SFWA member at each Group Table in order to receive the discount.
Table of 8 – Full Weekend Memberships
– $900 until Sunday April 4 (regular price for 8 memberships = $1,000)
– $1000 April 5 to Sunday May 2
– $1150 May 3 -Monday May 10 (if tables are still available)
Hotel Information:
Hilton Cocoa Beach Oceanfront
1550 North Atlantic Ave
Cocoa Beach, Florida 32931-3268
Toll Free: (800) 445-8667
Tel: (321) 799-0003 Fax: (321) 799-0344
www. hiltoncocoabeach.com
SFWA has arranged a special hotel rate of $109 per night. Rates during launch dates are generally much higher. Only registered members of the convention are eligible to receive the group rate. The group code will be sent in email to all registered members. The code should be available in the Hilton system by Tuesday, February 2, 2010.
It's advisable to make hotel reservations right away, especially for anyone who wants to be there Thursday, May 13, before the scheduled Friday afternoon shuttle launch. All Cape Canaveral hotels tend to sell out quickly for launch dates.

More hotel and transportation information
Additional details and Nebula nominees will be posted at www.nebulaawards.com and www.sfwa.org