Cris Robins and The Robins Agency: She's Ba-aaack!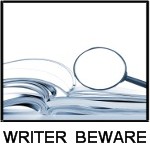 Posted by Victoria Strauss for Writer Beware
Once upon a time, there was a self-styled literary agent named Cris Robins who ran a purported literary agency called The Robins Agency. For more than ten years, Robins charged editing fees, levied various upfront fees, and, as far as Writer Beware can determine, never made a single verifiable commercial book sale. Complaints about her were among the first Writer Beware collected when we began operation in 1998. Due to the volume of these complaints and the length of time over which they were received, we placed her on our Thumbs Down Agency List in 2006.
That same year, shortly after an unhappy recipient of her editing services won an $8,000 judgment against her for breach of contract, fraudulent business practice, and consumer protection violations, Robins closed her agency's doors. For a time, she continued to solicit her services to writers–in 2007, I got a number of reports from authors who received emails with offers of editing services and the "packaging" of manuscripts for submission to publishers. By 2008, however, Robins had gone silent. Writer Beware dared to hope that The Robins Agency was out of business for good.
But being a fee-charging agent is so easy and so lucrative that many of those who practice it find it difficult to give up. This week, I learned that Robins is once again soliciting writers with offers of fee-based representation.
Robins' email begins:
After a three-year hiatus, The Robins Agency is now accepting new clients. Oh, sure, we still offer a full editorial staff and exceptional literary agents to present your work to publishers and movie producers here and abroad, but this year we're kicking off a brand new service that sells your books … when buyers want to buy them – like right now.

Our agency shook up the industry when we offered our clients an editorial service, rocked it even more when we charged a retainer for our services; and now, well, now watch out because this is going to be revolutionary!!
A bit of hyperbole here–Robins was prolific in her editorial referrals and her retainer, at $3,200 was astronomical, but her agency was far from the only one that followed such practices. Still, you've got to admire the spin.
Who ever heard of a literary agency that also published books?? Sure, you can find the under-the-table deals; but The Robins Agency is talking about above-board, in-your-face, quality work that lists on Amazon.com and Barnes & Noble, complete with cover designs, ISBN numbers, copyrights AND royalties to the writer.
Who ever heard of a literary agency that also published books? Well, actually, anyone who has ever seen Writer Beware's Alert on Writers' Literary Agency, a.k.a. AEG Publishing Group, a.k.a. Strategic Book Group–currently being sued by the Florida Attorney General's office for unfair and deceptive business practices.
Let's talk about investment. How much are you willing to spend to get your work from where it is, to being sold? We understand that money's tight right now; because we are looking for a few good works, we're willing to cut our prices to find the best work out there.

Remember I told you we shook up the industry? Here's how. Instead of sending you bills to cover expenses at the end of each month when you are under the impression that the agency works on commission, we charge a flat rate. We don't call on Thursdays and tell you that if you want us to represent you on our trip the next day that it's going to cost you $500. That's not the way we work.
Um, that's not the way reputable literary agencies work, either. But never mind, we're spinning like a top here in our effort to make our predatory business practices look appealing.
Our base rate, a one year retainer was $3,250; for this promotion only we are dropping it to $2,500.

IF your work needs editing, our standard rate WAS $6 per 250-word page for a limited time, we're dropping it to $4.50 per 250-word page.

If you want to take advantage of our e-book publishing offer, it will be going up to $950 on Feb. 1; but for this mailing, we're charging only $750. Remember this includes cover art, inside layout, ISBN, copyright, and submitted to Amazon.com and Barnes & Noble, and possibly a few others to seize every available opportunity for your work.

I've thrown around a lot of numbers, let's put them all together. Let's say you have a 300 page manuscript (that's 75,000 words); what do the numbers look like?

Editing services: $1,350 (a savings of: $450)
Agency retainer: $2,500 (a savings of $750) – it's like getting the publishing FREE!!
E-book publishing: $ 750 (a savings of $200)

Grand total: $4,600 (a total savings of: $1,400!!)
Gosh golly, what a deal!
So why would you want to pay a track recordless "literary agent" $4,600 for representation and epublishing, when reputable agents charge no fees at all and you can epublish for free on the Kindle? BECAUSE YOU CAN MAKE SO MUCH MONEY, STUPID!
Now, I understand that you may be sitting there thinking that there's no that you're going to spend $4,600 to take a chance on your book. So, let me ask you, how hard would it be to sell 1,000 books?? According to the news reports over 12 MILLION e-books were sold last year. Hmm. What if your book only sold 2,000 copies?? At roughly $4.95 per book, you just DOUBLED your investment.

Doesn't look quite so scary now does it? And that's ONLY if all we sold were the e-book copies. What would happen if while your e-book was selling, and other publishers were considering buying it for print? Would THAT be a bad thing? We didn't think so either.
Depends on how you define "bad."
There you have it. And, writers, you'd better hurry–'cause Cris Robins only has room for fifteen lucky new clients, and prices go up on February 1.