Quick Updates for 2010-02-24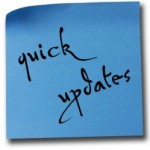 Resources
Member News
Congratulations to SFWA member Yasmine Galenorn who was nominated for a 2009 PEARL in Urban Fantasy for Demon Mistress!
SFWA member Joanne Merriam's Alzheimer's/vampire story went live at Strange Horizons today:
Welcome to SFWA's newest Active member Michele Lang Palter, author of Lady Lazurus.
Congratulations to Gregory Norman Bossert who upgraded to Active membership with a sale to Asimov's!