SFWA elections: Ask the candidates questions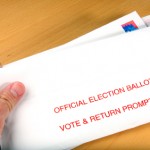 Now that SFWA Active members have received their election ballots, remember that you can ask the candidates questions in the Discussion Forums. Since we have some contested elections this year, make sure you participate in the process.  Though only active members may vote, any SFWA member may ask questions.
The following candidates have declared.
So, SFWA members go ask the candidates questions in the 2010 Elections Discussion Area.
Remember, ballots must be received by April 23, 2010 to be counted. This is not a postmark due date.