Quick Updates for 2010-03-09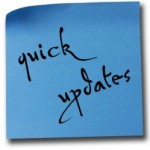 Resources
Member News
Welcome to SFWA's newest Associate member Jim Pitrat with a sale to "Realms of the Dragons II".
Welcome to SFWA's newest Active member, Andrew Rowe, a writer for World of Warcraft.
Interview with Nebula nominee Cherie Priest about Boneshaker. Covers zombies, steampunk, and dancing in underpants.
Congratulations to SFWA member Diana Rowland who sold Thai & French translation rights to Mark of the Demon & Blood of the Demon.
SFWA member and editor Jennifer Brozek's anthology Grants Pass is a finalist in the Australian Shadows Award.
Industry News