Quick Updates for 2010-04-20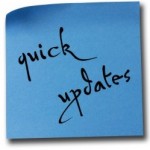 Resources
Brenda Cooper: Amazon's grand plan for e-books: cut out publishers entirely? Article at Tech Flash in Seattle.
ARC extravaganza: Win SFWA member David Macinnis Gill's Black Hole Sun.
Member News
SFWA member Carol Pinchefsky is the guest judge on tonight's Food Network Challenge, which is creating 4-ft-tall SF scenes in sugar.
Congratulations to SFWA member Paolo Bacigalupi whose SHIP BREAKER got a Starred Review from Publisher's Weekly.