Quick Updates for 2010-05-19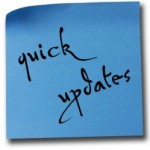 Resources
Fantastic image from NASA astronaut Garrett Reisman on a spacewalk during the current mission.
Member News
SFWA Grandmaster Joe Haldeman and China Miéville talking about worldbuilding.
Welcome to SFWA's newest Active member Dan Abnett, author of HORUS RISING from Black Library.
Welcome to SFWA's newest Associate member Gwynne Garfinkle. Read her qualifying story "In Lieu of a Thank You."
SALTATION by Sharon Lee & Steve Miller sold out & went back to press on publication day at Baen. It shot to #4 on WSJ's Genre Bestsellers.
Former SFWA president Norman Spinrad will undergo stomach cancer surgery on Thursday.