Quick Updates for 2010-06-25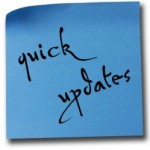 Member News
Congratulations to SFWA member Jennifer Pelland whose first novel has been bought by Apex.
"The Love Quest of Smidgen the Snack Cake," a podcast by SFWA member Robert Jeschonek (@TheFictioneer) is now available on Escape Pod.
SFWA member Greg Bossert's novelette "Slow Boat" is in the August 2010 issue of Asimov's Science Fiction, in stores starting June 22.
Welcome to SFWA's newest Affiliate member, J.L. Anderson, a comic book artist and writer.
SFWA member David D. Levine's novelette "Pupa" in Analog Sep. 2010, and his short "A Passion For Art" are in Interzone 228, in newsstands now!
Welcome to SFWA's newest Active member Rowena Cory Lindquist, author of The King's Bastard.